Managing social media for lawyers comes with its own unique set of challenges. All sectors are increasingly using social media as an essential part of their marketing strategy, but among law firms, the competition for clients is particularly fierce. Disclaimer: many of the tactics listed below we've used for our client Moshes Law, P.C.

To build an effective online presence and win clients and prospects from your competitors, you need an effective social media strategy.
Your social media strategy should tackle multiple platforms, so you need to learn how to get the most out of platforms like
YouTube,
Facebook,
Twitter,
LinkedIn,
Instagram,
Snapchat,
Quora,
Reddit.
TikTok
There isn't one secret formula for making your social media strategy a success – some law firms might do well on Facebook, while others might not. Social media for attorneys is a tricky business. We've included some examples in this article to help you find the right law firm social media strategy for your business. It's also important to try different platforms and measure the results for yourself. Social media marketing for law firms can be incredibly effective if it's well-executed
Benefits of Social Media for Lawyers
Before we dive into the rules and best practices for social media for attorneys, let's understand the value social media adds to law firm marketing. Should you bother with it? And is it worth your effort and time?
Below are some benefits of social media for law firms.
Reach Out to New Audience
Social media for lawyers exposes your brand to a broader audience. According to ABA's 2018 Survey, 35% of participants who leverage social media platforms for their brand gained more clients. Even better, 42% of the smaller firms gained new clients through social media marketing.
How can lawyer social media help you reach out to a new audience?
We live in a digital world, and many people around the world have social media accounts. According to Statista, the average daily usage of social media platforms was 145 minutes in 2020. This means your target audience has more time to interact with your brand, learn your unique value proposition and take action.
Traffic Diversification
To experience digital marketing success, it's crucial to diversify.
It's like investing in stock – when you diversify your marketing channels, you reduce risk and expand your reach.
You see, if you are currently dependent on SEO for your law firm, what happens on the next Google Algorithm update that doesn't favour your strategies? You'd lose control over your business and brand.
For a marketing plan for a law firm to succeed, you mustn't rely on one digital marketing approach. Your target audience hangs out in various places, and if you are focused on one channel, you're missing out on a lot.
In itself, diversification through social media advertising for lawyers is loaded with benefits, including:
An opportunity to create different types of engaging content for your target audience on different platforms.
It offers more data to analyze. With content consumption patterns changing constantly, the right insights help you keep up and understand your audience. And with a better understanding, you can create custom and valuable content for every channel.
One More Way to Find Your Firm
Social media should be included in your legal marketing plan. Depending on your law firm marketing through social media strategy, social media channels can help you drive more people to the law firm's site. On your site, they can get even more information they need to hire you. The path a potential client follows from engaging with your brand on a social platform to hiring you through your site may be as below:
You share a blog on the best way to structure a will on Facebook
Your target audience sees the post, click on the link to read the full blog on your site.
Your client fills out a custom form embedded in the post and gives you their email address
The client is automatically added to your leads inbox
Build a Community around the Law Firm
The goal of advertising a law firm on social media should be to sell a service at the lowest cost. A community enables you to do this fast and at an insanely low cost. Important thing that plays big role here is your branding. It means your social media should have same colors scheme as your website has. In the legal web design blog post we discussed the best ways to make your design recognizable. Before building your community, check your competitors' law firm websites and how developed their social media are.
Note that building a community is different from having followers. Your law firm brand doesn't get more valuable by getting a new follower. Instead, value is in creating a space where people can interact in a normal and valuable way. This way, they exchange value with each other and the community you've built gains a network effect.
Social media goals for law firms that ignore creating this network effect causes you to miss out on great audience attention. Also, you'll end up spending more on marketing than you should be.
Unfortunately, building a community is easier said than done. But on the bright side, you don't have to bear the burden of legal social media management alone. You can outsource it to a social media consultant for law firm like us, and we'll have our team of professionals create engaging legal content.
YouTube for Lawyers
Lawyers often don't know how to make optimal use of a YouTube channel, so they pass up an excellent opportunity to generate business.
Many people prefer to learn about things by viewing the content in a video, rather than just reading an article. Videos can help to retain your audience's attention span and allows the content creator to inject more personality into the video, creating extra interest.
Would you rather read an article about "how to tie a tie," or find a YouTube video and watch someone do it? For many Americans, the answer is increasingly the former, and the same applies to many aspects of learning. The evidence suggests that YouTube is the second most popular search engine after Google, beating out the likes of Bing, Yahoo, and DuckDuckGo.
Law firm SEO marketing is essential for your legal practice, and YouTube advertising can be an effective tool as well. When advertising on YouTube as part of your social media strategy, utilizing the right approach can have a significant effect on the success of your law firm's social media campaign. Here are five top tips for getting the most out of an advertisement on YouTube.
Video Advertising on YouTube
Great content is a vital component of any successful lawyer's YouTube channel. A personal injury video that simply says, "Injured? Call us!" won't get you a lot of traction because you haven't provided any value to the viewer or demonstrated your abilities. Ideally, you should be generating a constant stream of interesting and thought-provoking content in bitesize videos that explain difficult legal concepts in understandable language. Consider your ideal client and the kind of questions they might have, then do your best to answer them with useful advice. As a great example, take a look at Gerry Oginski's YouTube channel, an excellent resource from a medical malpractice and accident injuries attorney in New York.
The first 48 hours is critical whenever you post new content, as your video's performance during this time will dictate the effect YouTube's complex algorithm has on it. Get everything done the moment you make a video live, including SEO optimization, description, tags, and more. This is of the utmost importance because YouTube's algorithm will evaluate your content right away based on all this data. Promote your video immediately on all your platforms, your website, and social media accounts. Ask friends to take a look and try to get as many hits as you can in those first 48 hours — every view counts at this stage. For more information on YouTube optimization, check out this great guide.
Consistency is essential with your law firm's YouTube strategy. Create a production schedule and stick to it, whether it's once a month, once a week, or once a day, although this will create a lot of work. Whatever your schedule, never skip a week or post a video late, because it can hurt your subscriber count. In a legal marketing strategies, a good approach can be to plan a "season" of videos, similar to a TV show. Plan out your content and dedicate regular time to shoot, edit, and upload videos to your YouTube channel. Focus on producing great quality content. It's likely you'll do better if you produce fewer videos of higher quality than a slew of mediocre ones. Viewers are more likely to subscribe and share videos with their friends when they see high-quality content. Releasing videos on a consistent schedule and offering great content is a great way to boost your subscriber count and reach more potential clients with each video you make.
Consider the optimal video length for your YouTube channel, which might not always match what first comes to mind when you start planning. Bear in mind that YouTube wants to compete with TV and charge premium advertising rates, so the platform favors long-form, high-quality content that keeps users on the site for longer.
Videos between 6 and 12 minutes are ideal, as that allows you the time to explain most topics in reasonable detail while keeping viewers engaged. For more detailed information about optimal video length, take a look at this article by Wistia, a renowned video software company that offers some great advice on the subject. For examples of actual videos, check out this long-form content from Gerry Oginski (yes, we simply love his channel!) and this seven-minute video about immigration lawyer Pamela Peynado Stewart.
Make use of playlists to divide your videos by the areas of law your practice deals with. Using playlists is a powerful but often underutilized and underrated tool. Research your target market and find out what they are searching for when looking for your type of law firm. Then create playlists based on their interests.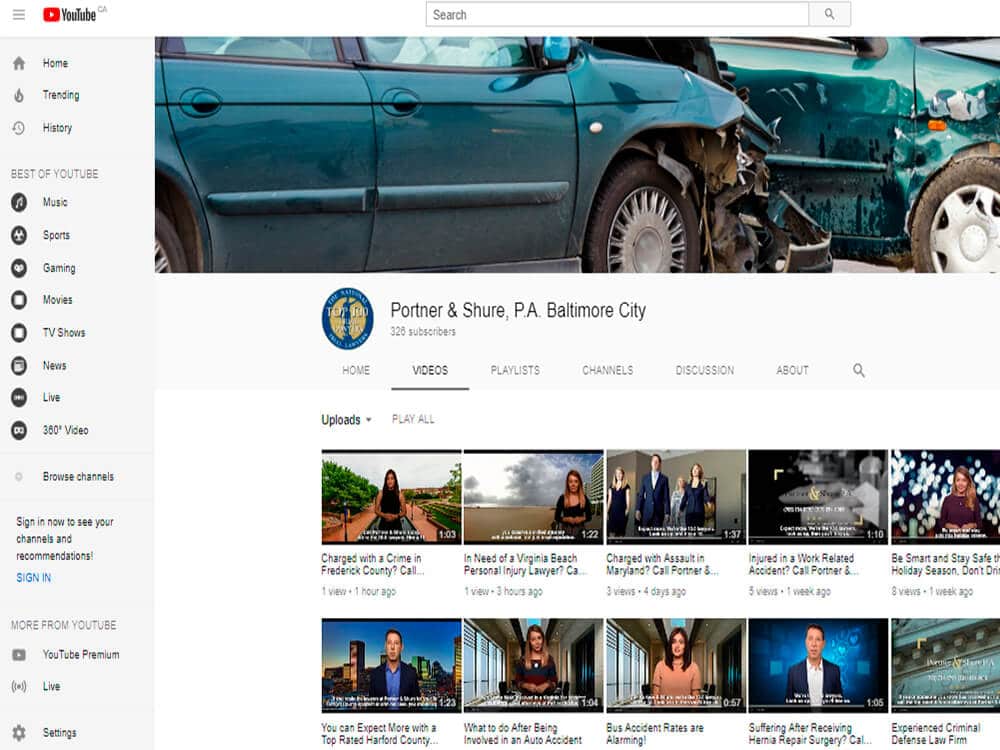 ‍
There's nothing wrong with checking out your competition either. Make sure you have a look at other law firms' YouTube channels and cherry-pick the ideas you like for your channel, but avoid plagiarizing actual content.
Pro Tip: Utilizing paid software can be useful for keyword research. For example, KeyWordTool.io offers a wealth of information to assist you with your SEO strategy. For additional information regarding competitors' videos, try the VidIQ Chrome extension, which provides plenty of useful information and statistics.
Practical Advice on YouTube Marketing for Your Law Firm
Ranking highly and appearing near or at the top of searches on YouTube demands that you follow some best-practice techniques when using the platform. Since lawyers aren't always used to dealing with SEO, they can forget some of the most common, easy steps. That's why we've drawn on our extensive experience of YouTube advertising options to provide you with applicable advice, based on some of the most commonly asked questions. If you are lack ideas, which content is interesting for your audience, start newsletter marketing for attorneys and track its results. After that, you can implement those topics to a wider YouTube audience.
How Can I Find Related Keywords?
The first step in social media marketing for attorneys is conducting keyword research. YouTube is a search engine for videos, just like Google searches for web pages and content, which means keywords apply in both cases. A keyword is simply a term or phrase that a user enters into the search bar to try and find the content they want.
Once you know what your video will be about, you can start typing related keywords into YouTube's search bar. It will come up with suggestions from the most popular related searches. This is the first step in finding out what people are looking for when they search.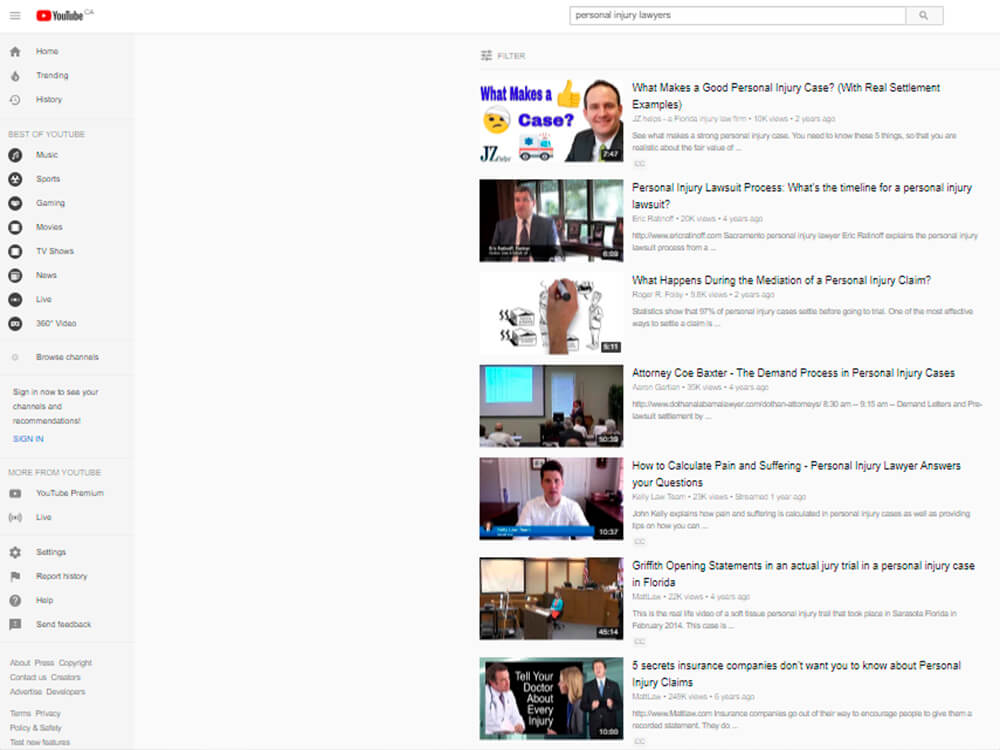 Take a good look at the top three to five videos, which usually have the most views.
Examine the name of each video.
Look for any similarities in each title and note them down.
Incorporate these words when you create a title for your video.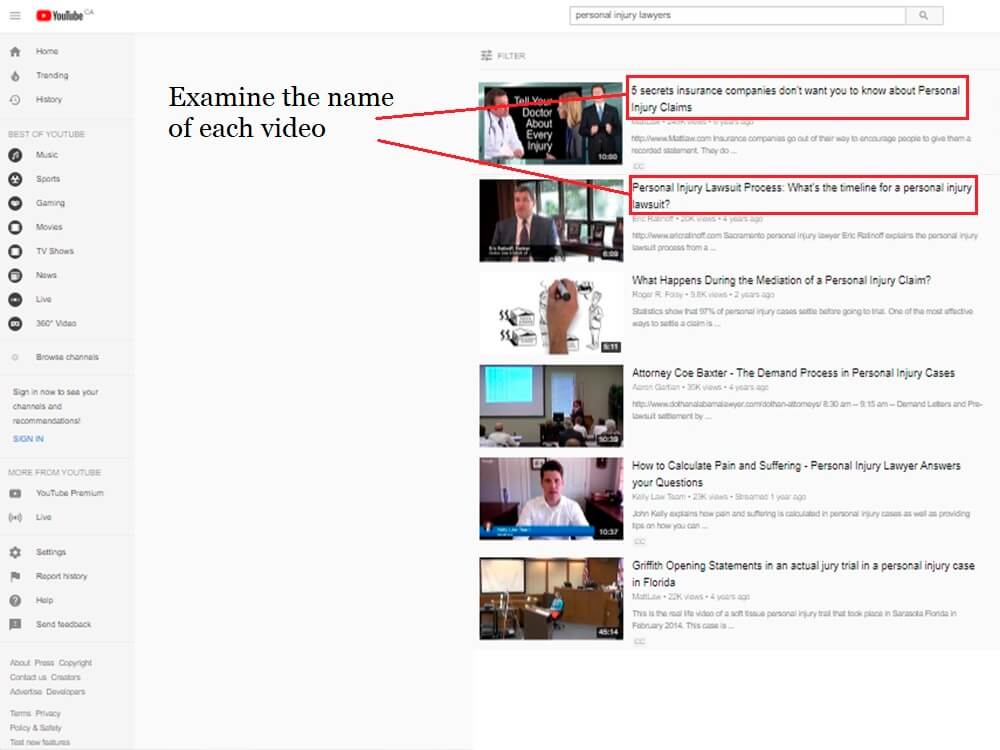 How Can I Create Great Thumbnails?
A thumbnail is a small picture that shows up in results and video suggestions to help attract users to the video. In many cases, this will dictate whether a user clicks on your video or not, so it's an important yet often overlooked aspect of advertising your YouTube channel.
Studies have found that the thumbnail image is, in many cases, more important than the title when attracting a click from a prospective viewer. Even if you complete every SEO step correctly, an uninteresting thumbnail might mean nobody clicks on your video anyway.
While YouTube allows you to select a thumbnail by isolating random frames from your video, you can achieve the best results by using a custom thumbnail. Here are a few recommendations for creating a great thumbnail image.
Do:
Use professional photography
Add titles and graphics to customize it
Make it intriguing
Use a bright, well-lit image
Don't:
Cover the thumbnail with an intrusive logo
Use colors that clash
Pick a random still from the video — it looks unprofessional
Make it all text
Don't worry if you don't have graphic design or Photoshop skills. Utilities like Canva can help make the process of creating an image easy for anyone.
What's the Best Way to Utilize the Video Description?
Don't make the mistake of only writing a few sentences in your video description. Don't just describe the video when there is so much more information you can include to attract your audience. Make sure you include calls to action, bios, and performer information, as well as useful links for any viewer who wants to know more.
Bear in mind that most of it will be invisible unless the viewer decides to click "show more," so include the most enticing information or related video links right at the top.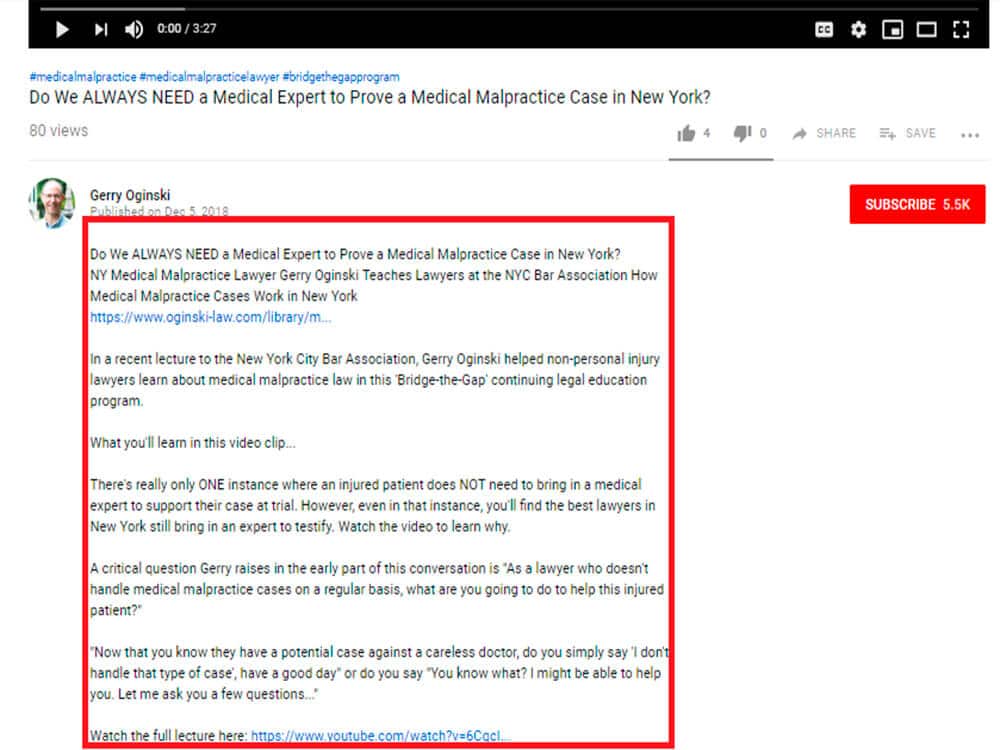 In this example, you can see that it includes the phrase "find more," encouraging viewers to click by presenting them with a value proposition. Add links to other resources such as your social media and websites, as well as useful information you can provide to potential clients.
What Video Tags Should I Use?
In most cases, viewers can't see video tags, so don't worry about how they appear on your video. This makes them one of the more useful tools for YouTube advertising. When choosing tags for your law firm's video content, use keywords and phrases, and always maximize your reach potential by using your full allowance of 30 tags.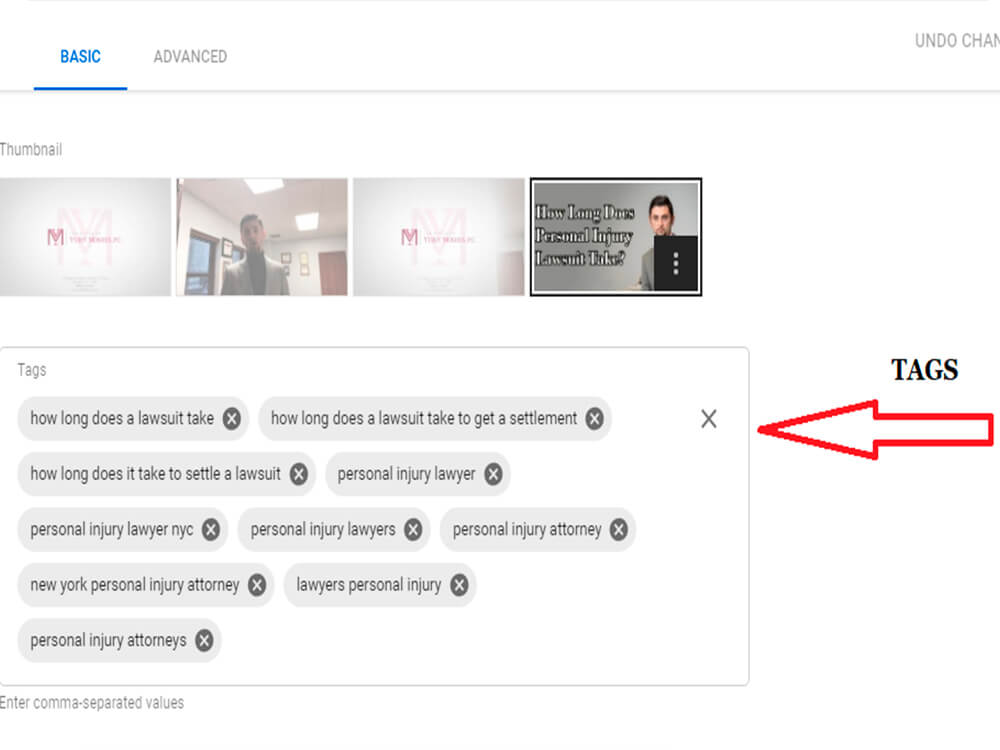 How to Get Viewers to Contact Your Law Firm
The end goal of attracting attention to your YouTube channel is to generate more business for your law firm.
Even if your videos are achieving a good number of views and your subscriber count is increasing, you need a good strategy to convert those numbers into potential clients. Here are two ways to make sure you're presenting your company well in your video descriptions.
Write an interesting description with a good hook that will make readers want to click through and find out more. If your description starts with something like, "If your employer constantly shortens your lunch break, you might be entitled to…" followed by the "show more" button, viewers may be more inclined to click. Include your call to action and all the relevant contact information, so they have a way to reach your firm if they're interested in your services.
The alternative is to include all the information in one or two short sentences, allowing it to fit inside the unexpanded description. Include your value proposition, whether it's a free consultation, PDF download, or more detailed information. Make sure it shows up below your video for all viewers. This can convince clients to find out more and reach out to you because they already know what they're getting.
It's also perfectly acceptable to include a screen with a call to action or information about your company and the speakers featured in the video, along with your firm's logo and any other relevant details. Whatever approach you choose to market your law firm, always include useful links in your video descriptions to direct clients and prospects wherever you want them to go. Include social media channels, contact pages, and further value propositions, including other videos on your channel, to maximize your clicks.
Annotations, cards, and end screens allow you to place links directly on the screen and provide viewers with a direct route, without even having to look at the description. However, bear in mind that too many annotations can be obtrusive, and many users may have annotations switched off. Prioritize your information and links effectively to make the route to your business quicker and easier.
Pro Tip: Try different approaches and see what works. The right answer for one prospective client-base might not be the same for another. Think about your target market and optimize your channel according to their needs.
When Should I Use a Call to Action in My Videos?
If you've finished watching a video from almost any major channel, you might see them asking you to subscribe at the end or other requests like, "Hit the like button," or, "Leave a comment below." These are all standard calls to action you will often see on YouTube videos, and the reality is that they work.
The end of your video should do the work for the user and provide them with a one-click option to support and keep receiving your content if they've watched all the way to the end. After all, that means they probably found it at least a little interesting.
That's just the basics though. Here are some of the other occasions where you can make use of a call to action in your YouTube videos.
Right at the start. Many viewers will stop watching your video before the end, so including a call to action at the start (within the first minute of the video) guarantees they'll see your message. Bear in mind, a long introduction could cause viewers to get bored and click elsewhere, while a sales pitch might make some users skeptical about the value proposition of your content.
During the video. This can be a useful way of recommending similar content you've produced that relates to or expands upon a current topic. It also gives you a chance to balance the value you offer to viewers with your need to reach more people before they tune out.
Toward the end. – Putting a call to action just before the end instead of after the conclusion encourages viewers to watch through it and receive any final information. It's a good tip and allows you to use the preceding part of the video to power up your call to action, by which time the user knows you're an informed expert on the subject with a good value proposition for them.
What's surprising is the fact that many lawyers forget to include a call to action. Overlooking this makes it difficult for interested users to reach out and convert into prospective clients. While some users might not enjoy your content or feel it isn't relevant to their situation, you need to consider the viewers who do watch your video to the end and need a clear next step to securing your services.
YouTube advertising lets you reach a wider audience and communicate in a way that people are becoming increasingly acclimatized to. Make sure you form a plan for creating content. Include enough time in your schedule to brainstorm, shoot, edit, and upload videos, as well as working on advertising your YouTube channel. A sophisticated plan for building a YouTube channel can form an excellent part of any law firm's social media campaign.
For questions regarding YouTube advertising for lawyers, please send us a message and we'll be happy to help you.
Instagram for Lawyers
Although it might not be an obvious first choice, there are some key advantages to featuring Instagram as a viable platform for social media marketing for attorneys. This may depend heavily on your area of law. A business contract attorney might not see the same benefit as a real estate or marriage contract lawyer, but generally, the more platforms you use, the better.
For the right law firm (drop us a line to find out if your field considers "right"), Instagram offers many creative ways to target potential customers. One example is to target life events such as moving home or getting engaged and advertise to users who might need your services without waiting for them to do an online search.
General Recommendations for Law Firms Using Instagram
Professional services industries rely heavily on building great business relationships and, of course, the legal sector is no different. While posting a picture on Instagram won't necessarily get your phones ringing off the hook, it presents a professional image of your firm and your team, which can cement your reputation in the eyes of existing and prospective clients.
1) Always Start with a Plan
Think about what you want to achieve on the platform and what you expect as a return for your time investment. Consider what is realistic and form a plan that will directly help you achieve your goals.
One helpful idea is to use a social media content calendar to plan the release of content, so you can prepare images and videos to release over the coming months. Doing it all at once might make it easier and mean you don't have to interrupt your work as often by taking time out of your schedule to post messages and videos individually.
Focus your content on potential clients, existing clients, or anyone you want to target. Offer interesting information about your firm, as well as any value propositions you can provide. Remember that it's a visual platform, so you want to post pictures that look attractive on the timelines of Instagram's one billion monthly users.
2) What Should Lawyers Post to Instagram?
As an image-sharing platform, Instagram is potentially more useful to show what you do as a lawyer, rather than talking about it. A good way to think about creating content for Instagram is to try and focus on how you do something, to engage existing and prospective clients with your firm's exciting and unique ideas.
Look at the people in your practice and look at its practices. See if there is a way to humanize your firm by showing behind-the-scenes images of your team. Focus on any good work you produce, and let your followers find out a bit more about your personalities as lawyers, focusing on any positive traits or work that benefits the community. This Sprout Social article has some helpful ideas for forming an Instagram marketing strategy.
3) Don't Give Legal Advice Directly, But Encourage Users to Contact You
There is a difference between sharing legal information and advice. When you receive comments on posts, users will often ask legal questions. It's important to respond in a friendly and considerate way, but we generally recommend sending them a private message, directing them to contact you for a consultation. When you do this, reply publicly to let other users know you have done so. Otherwise, it might seem like you're ignoring comments.
Content Ideas for Lawyers Using Instagram
Link to your latest piece of content in your bio and post a relevant image telling users to click on to it, to make it easier for them to access your content. Instagram makes this a little awkward, but many of its users are familiar with these steps.
Once you accumulate a larger following, you might have the opportunity to include "swipe up" links in your Instagram story, which will make it even easier for users to access your written content.
Set up your profile as a "business profile," which will allow you to include contact information and a business category on your page. This looks more professional, and it helps users to contact you directly if they feel the need to do so.
Share content from behind the scenes and allow users to feel a personal connection with your practice. You don't need to give away any business secrets. Highlight some of the more human aspects of your firm, like a view of the lunchroom or balcony. Perhaps post a professional headshot of a new member of staff and include a bio in the description of the photo. Tell your viewers about their background and area of expertise, as well as how they came to join the practice.
It's useful to announce any changes going on at your firm via Instagram. Whenever you launch a new office, change staff, or form a new practice group, consider posting to inform your audience about it. It's an excellent excuse to remind the world you're still active. Use a good mix of photos and videos with a positive message, and always try to incorporate professional-quality photography.
How to Get Noticed on Instagram
Use general hashtags. Most Instagram users categorize images with hashtags, and the official Instagram app includes built-in hashtag support to get your content in front of the users who are browsing the "Discover" section. Using hashtags can widen your exposure considerably by showing your picture to users who are browsing similar images. Check a hashtag before using it and consider creating content with a similar style to meet the expectations of browsing users. There is additional information regarding hashtag usage and finding suitable hashtags in the Twitter section of this guide.
Use location hashtags. If you're targeting a local market, using a location hashtag will help you filter out potential clients among the masses of content on Instagram. A general hashtag might improve your reach, but that isn't useful if those seeing your content are on the other side of the world – unless you're an immigration lawyer.
Avoid hashtag spam. Not only does this make you look unprofessional, but some articles have also suggested that Instagram shadow-bans accounts who overuse irrelevant hashtags. This could result in your content not reaching the users you want and damage your profile significantly. Excessive hashtags can make your profile look like it belongs to a teenager, rather than a responsible company. Pick a few relevant hashtags that could help people who would benefit from your content to find it.

Include a useful caption. While artistic Instagram accounts might use a single word or quote for their stylized photography, people might expect something with a little more substance from a law firm's Instagram. Look at what your competitors are doing and use that knowledge to figure out what will work for your practice. We like the Instagram profiles of this trial lawyer and this civil rights lawyer, so check them out for some inspiration. In any case, don't let all these rules put you off from posting at all – think about the needs of your prospective viewers and clients, while considering how to offer them value and interest in your posts.
Employ two-way communication. As part of the service industry, your success depends on developing relationships through your engagement with prospective clients and people who might recommend your firm. Law firms and social media work best together when comments reflect your helpful and informed nature. Ideally, you need to tread the line between professional and friendly. If you're too formal, you'll come across as stiff and hard to relate to. If you're too casual, you won't seem like a trustworthy firm to take care of the critical legal matters arising in the lives of your potential clients. Think about a professional situation or social function where you're networking with peers in the field. Make sure to react and engage with others. Follow people back and comment on their photos in a professional manner, while also making sure to reply to all the comments you receive. When replying, include their name with the "@" symbol to ensure they get a notification and it's clear to whom you are responding.
Pro Tip: Popular Hashtags for Lawyers in 2018
#law – 2.3 million
#lawyer – 1.2 million
#attorney – 282,000
#lawfirm – 130,000
#familylaw – 42,600
#attorneyatlaw – 34,000
Additional Instagram Tips for Law Firms
Until your page grows significantly and you reach a specific follower count, you'll only get to use one hyperlink in your bio. On a business page, you can also add a phone number, email address, and map directions. Keep your link updated to connect your audience with your newest content. You can always refer to it in image captions or stories as "link in bio." Users will understand it'll be out-of-date if they're looking at older pictures, so don't worry about updating it.
Type out text in a notes app before copying and pasting it into your story. This will allow you to add extra text and useful, long-form comments to your story, ideal for a professional Instagram account when you want to communicate additional information. Users can pause your story by touching the page, so don't worry about them running out of time while browsing through your story.
Don't be afraid to use emojis. These friendly icons will show you're current with the latest technology. There are some fun, law-related emojis you can use, and you can also pick flags when addressing a specific country. Not all emojis look immature, but some might be inappropriate for a professional page, so use your judgment.
Save hashtags in a notes app and copy them in when you need them. Doing so can save you a great deal of time when typing out hashtags for posts. A useful idea is to add them in as a comment, so it doesn't crowd out your photo caption.
Instagram can be an excellent tool for marketing your law firm on social media. Humanize your law firm by offering behind-the-scenes looks at your premises. Show your team working hard and having fun. Provide real information on unique cases and highlight positive work you are doing for the community, along with changes in your legal roster or new services you've started offering.
It's best to be expressive and unique, as you want to draw attention to your practice, but that doesn't mean you need to invest all your time in it or reinvent the wheel. Simply allow the positive aspects of your law firm to shine through. Your users will appreciate it.
If you're not used to using a social media network, it can seem like an incredibly challenging world to navigate. However, Instagram is worth the investment because it has a vast user base. If you need some help working out the kinks and peculiarities of Instagram, don't worry. Lasting Trend can help you out, so drop us a line.
Snapchat for Lawyers
Snapchat is an excellent option for targeting millennials and other younger generations. Like Instagram, it also tends to be more popular among female users.
The unique feature of Snapchat is that messages are not permanent. When Snapchat users view a message, it will disappear almost immediately, so it resembles face-to-face communication more closely than other instant messaging apps.
It also includes location-based information which can be useful when trying to reach residents in your area. As with Instagram, it's important to consider your potential clientele and recognize that Snapchat might not be ideal for senior or business-oriented law firms.
User Demographics and Behavior
Snapchat is an app that is more popular among a younger audience, with more significant correlations in its user base than many other social media platforms. Here are a few statistics about the Snapchat user base.
23% of Snapchat users haven't yet graduated high school
37% of Snapchat users are aged 18-24
25% of Snapchat users are aged 25-34
Using Snapchat in Your Law Firm Social Media Campaign
Probably the most useful feature is Geofilters, which allows you to design a custom filter for Snapchat members to use in a specific location. Although they aren't free, it's a way to reach Snapchat users in a specific area. Running Geofilters where there is an event or a gathering of people can be a great way to target situations relevant to your areas of legal practice.

As a personal injury law firm, it might be relevant to add a filter to a motorcycle event with hundreds of riders. If you are a criminal defense or DUI lawyer, a Geofilter on a street within your city's nightlife area during a Friday and Saturday night could be a great way to find some business. Use your creativity to find ideas and target locations relevant to your business.
Pro Tip: Snapchat is a casual app with a more friendly, relaxed atmosphere. It doesn't require the same degree of sincerity as Facebook or Instagram. It provides an excellent opportunity to show your employees having fun together or enjoying a lunch break. Highlight an interesting event, sharing the experience with your followers to create interest in your firm's activities. Snapchat is another way to humanize your firm and create an emotional bond with your community.
Snapchat as Evidence
One reason to get a handle on Snapchat is that jurors can use Snapchat stories as evidence in courtroom trials. It captures and stores a lot of data like times and locations. In July 2016, a jury convicted two people of rape after photos of the incident sent through the app were used as evidence in the trial. A photograph taken with another Snapchat filter that can measure speed was used to show how fast a motorist was traveling moments before a fatal incident.
While Snapchat stories don't last long, users can take screenshots of them using their smartphones' built-in capture features. Additionally, forensics experts can recreate deleted snaps in some cases, while Snapchat stores a log of sent snaps. Keep up with the technology and consider how you can apply it to both your marketing and legal strategies.
Give Snapchat a try and learn what it's all about. It might be unsuitable for your firm or your target market right now, but that might change in the future, and it's always good to have a handle on the latest trends. In some cases, it could help you build business relationships with the millennial generation, who are statistically more likely to use the platform.
Quora — Answering Legal Questions
Quora is a social media network where users submit questions and other users provide answers to them, developing a steadily improving database of responses to common and specific questions.
Users can upvote the best answers, creating a democratic system. Quora presents excellent opportunities for lawyers, who will have a greater degree of expertise than most of the other people answering. Responding to legal questions on Quora can help you build status on the platform, and there are multiple ways this can lead back to your firm.
Start by following a few basic steps:
Build a profile with suitable and subtle references to your firm, citing your experience. Make sure to include: Your name, a professional picture, a professional bio with employment, education, and location information
Search for questions to answer and pick out a few common queries. Search for topics related to your practice like, "Criminal law lawyer," "Questions for a tax lawyer," or "Bankruptcy lawyer," and answer questions helpfully and professionally.
Identify the best legal questions to answer on Quora and maximize your exposure. This is a balancing act between answering popular questions with a lot of traffic and niche questions, where the competition is lower, and answers aren't as forthcoming. Using the "Answer" tab, you can find questions that are relatively new, and you might have a chance of writing one of the top answers if you get in there quickly. Focus on topics you have expertise in and can write a more in-depth response than average users. There is some useful additional information about answering Quora questions in this article: "From 0 To 20 Million Views on Quora and How I Did It."

Write an answer that tackles the question and provides useful additional information to form a complete and helpful response. Don't fill it with encyclopedic knowledge. Filter out relevant points and make sure it's written in a friendly, readable style. Use qualifying terms and avoid offering anything that could pass as legal advice. Explain the options available to a person and link to a helpful blog post you've previously written that offers deeper insight into the subject. Don't include a call to action or your firm's marketing slogan. Quora often bans users from advertising on the platform (for free).
Establish a reputation as an expert by writing high-quality answers. Quora will be part of a long-term advertising strategy for law firms, as it can take a while to become known. Frequent users will eventually begin to recognize you and consider you a valuable member of the community if your answers are well-considered and helpful. It's also possible to win distinctions on the platform and receive a badge by your name such as "Top Writer." This will lend credence to your answers and could improve your success when aiming for that "Top Answer" accolade.
Bear in mind that Quora is still a social media site with user-made content. Don't spend hours finely crafting each answer because it might not be worth it. However, you can share a few links to your website. Over time, it can help improve your online prestige and drive traffic to your landing pages.
Reddit for Attorneys
Reddit is a social news aggregation, web content rating, and discussion website, fueled by user ratings on every post and comment. It can be a useful element of social media marketing for law firms.
Some people consider the front page of Reddit as the home page of the internet. It features top news stories and interesting discoveries, as well as entertaining distractions. While Reddit hosts countless smaller communities, or "subreddits," the front page displays the top content currently featured on the site and can achieve upwards of a million hits.
How to Use Reddit Marketing to Your Advantage
Take care when creating your account. There are specific rules for attorneys you should read beforehand. Remember that your username, along with all your posts, links, and comments, is visible on your profile page. It's important to familiarize yourself with general Reddit rules, as self-promotion can result in a shadow-ban. Site admins expect you to contribute to discussion primarily, and users who simply aim to use the site as a promotional tool will not be popular among users.
Ignite statistics indicate that the majority of Reddit users are males between the ages of 35-44, closely followed by males aged 25-34. The average Reddit user has an income of between $25,000 and $50,000 and a bachelor's degree or college diploma. This could mean a lot of Reddit users fit your exact target market.
You can also customize your front page by subscribing to different subreddits, making the website a useful tool for staying in touch with communities relevant to your specialist area of law. The number of upvotes on each post will let you know how popular it is. There can be a lot of interesting reactions in the comments of Reddit posts, which could give you valuable insight into your potential clients.
Choose the right subreddit for any content you post. Determining the atmosphere of a subreddit will help you create posts that receive a great response and have a better chance of transferring across subreddits. It might be best to answer some questions on a subreddit first to test the waters.
Subreddits like Ask Lawyers and Legal Advice are great for finding interested parties who might require your services. If you provide a helpful answer and explain that you own practice in a specific city, you might get a response or query without doing any direct marketing or self-promotion.
Produce answers and content of high quality. As with all social media platforms, people will value-helpful content delivered in a respectful tone. Self-promotion efforts are destined to fail, and downvotes reduce post visibility. You can do your part by upvoting comments you like, leaving your own, and posting when you feel you have something interesting to offer. Upvotes are the only way to make your content more visible. With more upvotes, your post will appear higher in its subreddit and on the front pages of people subscribed to that subreddit.
Reddit Insight is a great tool for measuring performance. It will show you what content is working best, helping you to plan your future posts, as well as the material that didn't get a positive reaction. It also includes analytics for your posts and Reddit account.
Pro Tip: You can find a dedicated subreddit which only practicing attorneys can access. This offers a closed community to discuss legal issues and management with your peers. Joining requires a few personal identification documents to prove your status.
As you build up your prestige on Reddit, you might find you want to know more about how you can boost your website traffic using the site. Contact Lasting Trend — we'll be happy to answer all your questions.
Facebook Ads for Lawyers
There are two fundamental ways to get more clients and build relationships on Facebook — organic Facebook marketing and advertising with Facebook Ads. We'll be covering both methods to help you figure out which approach will be best for your practice.
Organic Facebook marketing. Facebook's latest algorithms prioritize posts from family and friends, which means brands and publishers don't appear in front of users as often. This affects organic reach on Facebook for lawyers and any other professional service provider. Success on Facebook is now dependent on the use of Facebook Ads, but there are still ways to make your organic online presence more effective. Take a look at our previous blog, on how to advertise a law firm topic for some useful social media tips for law firms.
Advertising with Facebook Ads. Facebook Ads simplify things and offer several benefits including:
Rapid placement
Budget control
Affordability
Targeting by a range of demographics
Examples of productive uses of Facebook Ads for lawyers include:
Boost Your Practice Areas
This simple approach makes use of current news stories to boost your traffic significantly.
When a hot story breaks, create a post on your firm's Facebook page as soon as possible. Link to coverage using Sniply, and provide a call to action directing viewers to your website.
Pay for a Facebook Ad boost suitable for your budget. Common examples include several hundred dollars. Run the ad for a maximum of 72 hours, as stories tend to fade away after a few days.
The Sniply overlay will sit on the page, encouraging users to download your guidelines or read a blog post concerning the issue.
It's critical to capitalize on stories relating to your area of expertise quickly, as interest tends to die down after a short while. When the story first emerges, there will be a lot of traffic, and users will be looking for more information about it. Make sure your call to action includes a relevant value proposition for prospective clients.
Build Awareness of Your Law Practice
Video is a great way to improve awareness, as video ads tend to receive more attention and interaction than static ones. Use subtitles so users can receive your message if they are hard of hearing or happen to be browsing without audio. Invest some money to make sure the videos are of professional quality and check out examples from other firms, like this promo video from a criminal defense attorney.
Be Creative with Life Events Targeting
Facebook holds a wealth of information about the significant events in its users' lives, such as starting a relationship, getting engaged or married, and moving to a new house. You can use this when targeting to help form connections with people who are about to get married or are recently divorced, for example. Facebook allows you to do this with a life event targeting parameter, scheduling ads that target the people experiencing these events.
This is a unique feature of Facebook and one that targets particular individuals. Make sure you investigate and use any relevant options when running Facebook Ads for your firm.
Here are some general tips for using Facebook effectively:
Avoid using your personal page as your business Facebook page. Create a page for your business and manage it separately. This is ideal because you don't want your personal interactions watering down or confusing clients – it could present a very unprofessional image.

Aim to create high-quality content, rather than simply announcing, "Hey, hire me if you need a lawyer. Thanks." Posts like that aren't likely to attract a lot of attention. Instead, try to put yourself in the mind of your prospective clients. Think about what they might be likely to click on Facebook and what sort of posts attract your attention. Interesting links to articles or blogs with real value propositions might work, as well as content with attractive images or videos that grab attention. Make sure it's all relevant to your firm's area of law and try to inject some of your personality into your posts.
Check your state bar's guidelines for social media use. There are guidelines specifically governing social media ethical issues for lawyers, and certain kinds of posts could put you at risk. Don't be worried but do be smart and check up on your state's code of ethics. Here are the New York state bar's lawyers and social media ethics page.
Pro Tip: Bear in mind that Facebook advertising may be limited in certain ways, depending on your area of practice. It's unlikely anyone will hunt down your injury law firm's Facebook page, rather than simply searching for an injury lawyer on Google. You also need to remember that people don't plan to suffer an injury, so it's unlikely they'll follow your Facebook page in advance just in case. Consider Facebook as a potentially effective advertising platform and examine its targeting parameters to see if any of its tools or features will suit your firm.
Facebook is useful as a supplemental channel. It might be the place a prospective client goes when they want to check out your online presence, reputation, and attitude, so consider the image you present on your page. You could look upon Facebook as a social Wikipedia or a digital alternative to the Yellow Pages.
Here's an example of an effective strategy we employed for a New York client. They post a blog from a website at the start of the week, with some useful information for prospective clients. On Wednesdays, they make a longer post of 300 words or so, concerning the industry and including an interesting, relevant image. Then, on Fridays, they typically share something more humorous for people who have endured a long week at work and are feeling tired going into the weekend. Think about the mentality of your potential clients and the sort of content they might enjoy at any given time.
Whatever kind of law firm you run, it's essential to have an online presence on Facebook. Since Facebook acts as a directory, you could be throwing business away if you aren't searchable or don't have up-to-date contact information on the platform. You should make sure the page looks active, showing your law firm as a thriving and successful practice. Although it might seem like a lot of work, you can always ask Lasting Trend for assistance – feel free to contact us for a complimentary consultation.
LinkedIn for Lawyers
LinkedIn can be an incredibly useful tool for many law firms. However, far too many practices use the platform only to look at other firms' posts. Bear in mind that LinkedIn has much greater potential for B2B legal services than almost every other platform. You need to learn how to leverage its tools and employ best practices to achieve your own business goals.
Basic LinkedIn Tips for Attorneys
SEO for your LinkedIn profile. As with all your social pages, you need to make sure you're employing good SEO practices. That's one of the most helpful LinkedIn tips for lawyers because so many firms neglect to take a few simple steps that can dramatically increase their exposure on the platform.LinkedIn marketing isn't as hard as you might think. Make sure you add relevant keywords throughout your profile, including the headline and summary. If you are a personal injury lawyer based in New York, make sure you incorporate "personal injury lawyer NYC," "personal injury attorney New York," and other relevant terms with geo-modifiers.
Share updates. Your LinkedIn marketing strategy needs to include updates, which are just like status updates on Facebook or tweets on Twitter. These updates will appear in the feeds of your connections and remind them you're active. We recommend mainly posting information that is useful to your audience, as this is likely to attract more shares and attention. Something like an 80/20 split is ideal, primarily focusing on posts that are going to be helpful to your audience. In the remaining 20% of your posts, feel free to share interesting updates regarding your company, any changes you've made, or the results of major cases you were involved in. By taking an active position on the platform, you have the chance to increase your business prestige. It's not much use having hundreds of connections on LinkedIn without posting updates because you will just get lost in the crowd.
Use blogging for attorneys to increase your organic traffic. LinkedIn is very well-suited for use as a blogging platform. If you don't write a blog already, you should consider starting one, as it enables you to share your expertise with the world. The legal practice market might be extremely competitive, but that only serves as another great reason to show the world how knowledgeable you are in your area of law. Starting a blog on LinkedIn is easy. You don't need to worry about hosting a site, updating your WordPress, or fiddling with style files to make it look good. Just go to your LinkedIn profile, click "Write an Article" and start producing quality posts for your connections to read. Make sure to prioritize topics that might interest them and write intriguing titles to capture your audience.
Use video on LinkedIn. One new opportunity for law firms on LinkedIn is to use video. LinkedIn made the video available to almost all users in 2017 and is putting a lot of effort into developing itself as a video platform. You can capitalize on that push by creating video content now and enjoying a high level of reach. Think about content that will interest your audience when you create a LinkedIn video. Offer practical advice to suit your target audience and always use professional tools and equipment, so your video is of a high standard. Video allows for a range of content types, such as a webinar on hostile work environments or a guide to inspecting a house before you make a purchase.
LinkedIn Clients Outreach for Lawyers
Outreach on LinkedIn is the way you build your audience on the platform by forming connections with others. Start by connecting with people you already know to give yourself a good base. Once you've made connections with your existing contacts, you'll have a sufficient audience to start making an impact with your content and updates, as well as a springboard from which to grow your LinkedIn network.
There are few general tips that should be applied before you start outreach:
Craft your profile. A mistake we often see on lawyers' LinkedIn profiles is that they tend to feel too static and read a lot like a resume. Make sure to fill your profile with interesting text and inform readers about how you assist your target audience. Include referrals from sources within your area of law to improve your credibility. Always use language that is easy for anyone to understand, and make sure your profile clearly communicates what you do and the services you offer. Point out ways in which your skills and experience provide a unique benefit to potential clients, without making it sound like a corny marketing piece.
Choose a niche for outreach. LinkedIn for Lawyers is a useful tool that allows you to make connections with many prospective clients on the platform. That means carving out your niche by identifying your potential client base. Finding your niche will affect a lot of your activity on LinkedIn, including everything from how you build your profile to how you communicate on the platform. LinkedIn has a powerful search tool with useful filters to help you find people based on their location, job title, industry, company name, education, and more. If you specialize in creating contingency agreements in real estate, you can easily find real estate brokers to connect with, who might be able to point clients in your direction. It's important to remember that, while LinkedIn is primarily a business platform, you can still make connections that can help you generate B2C clients indirectly.

Don't start with a pitch. Everyone has received a pushy or cheesy pitch on LinkedIn that immediately turned them off. Whatever platform you use, people are interested in making real connections that can be of mutual benefit, rather than simply being someone else's route to a paycheck. Build your authority and prestige on the platform, focusing on growing your network and developing your firm's online status. Once you've achieved that, approach people in an appropriate manner.
Personalize invites. People are so used to receiving bland or template invites on LinkedIn that any customized or personal message stands out from the crowd. It doesn't take long to write something that includes the person's name and at least offers some relevant information to get a conversation started. Check this website to master this approach.
Starting Your LinkedIn Outreach
Write a short, personalized message, so the person you are contacting knows you're specifically addressing them. At this point, it can be something simple like asking them to connect with you, such as, "Hey [Name], your profile caught my attention and I'd like to connect. I'm looking forward to hearing from you."
Once you've established contact, share two or three messages back and forth, asking them how their business is going and some genuine questions about their company.
Don't wait around too long. After those first few messages, get to the point and make a proposal to your connection. People understand that LinkedIn is for making business connections and securing work, so don't feel self-conscious about speaking frankly. Include a real value proposition and, assuming you have confidence in your service, bear in mind that you are trying to do them a favor.
Pro Tip: Remember that, while LinkedIn allows you to post a quick message offering your connections messages of congratulations on their work anniversary or a new position, these messages are the same for everyone. The person receiving the message will most likely recognize you are just using an automated template, as they likely receive many of the same messages in their inbox. Take a moment to write something personal, and you'll stand out, allowing you to make a much better impression.
LinkedIn Groups for Lawyers
One useful feature of LinkedIn for lawyers is groups, which can help you to reach your audience with more efficiency. It's also a valuable way to participate in productive discussions, raise your prestige, and expand your network.
LinkedIn groups are networks for professionals in the same industry and people who share similar interests. The function of groups is to allow for discussion and content sharing and to facilitate online networking.
Share news in groups. Share news relevant to your area of law and start a discussion to which you can contribute. For example, if you're an employment and labor lawyer, you might share a news piece about a new ruling on child labor and include a comment on how it will affect businesses. By interacting more on LinkedIn, you can attract more attention to your profile, which will lead to more people investigating your business and raise awareness for your firm. This can have a real impact on your web traffic. The more interest in your business, the more likely it is that someone who requires your services will find you. One way to drive website traffic is by sharing an excerpt from a blog or post on your website and link to the full version. It's a useful way of generating web traffic among a targeted audience, and it could help your SEO by adding links to your site.
Start a group yourself. If you don't feel there is a suitable group for a particular interest or area of law relevant to your company and location, consider starting one yourself. Providing there's a high likelihood of there being enough interest, you could create a bustling community, raising discussion, and drawing attention to your area of expertise. In the long run, this could raise your business prestige and might even end up generating business for your company.
Participate in groups. Join groups relevant to your area of interest and become an active participant by offering meaningful input in discussions and comment sections. Bear in mind that you are representing your business and want to put across a mature and respectable image. Don't just spam in every discussion or comment on every post with a lengthy opinion. That will make it seem like you don't have anything better to do and it might stifle the discussion. Join in when you feel you have something relevant to say and don't be shy about applauding the comments or work of others. It will give a good impression of your potential to contribute positively to the group. Use the atmosphere as a gauge to understand common questions and concerns in areas of law relevant to your practice. Allow these discussions to inform your marketing efforts on LinkedIn and elsewhere.
For instance, you could probably find a general "Personal Injury Attorneys" group with many members around the world. You might also find a "New York Personal Injury Law" group that purely focuses on personal injury lawyers in your region.
Pro Tip: We suggest is to find groups relevant to your location. It's likely you might be lost in a mass of discussions if you focus on a general "Personal Injury Attorneys" group. However, a group for personal injury law based in New York would have fewer members and could allow you to participate in more meaningful interaction, as well as make a name for yourself.
Here are some good ideas for groups to join, but remember to look for options that are relevant to your local area:
Here are a few things law firms should be aware of when using LinkedIn:
Tread carefully with recommendations. Although making helpful suggestions on LinkedIn can look good and improve your credibility, it might pose a risk in the legal sector. Some state bar associations have specific rules governing social media recommendations for attorneys. Anything readers could construe as an endorsement might fall under that jurisdiction. Check with your state bar association first to make sure you are adhering to the social media ethics rules in your area.
LinkedIn's view feature. According to the American Bar Association, while you are allowed to research jurors on social media platforms, making contact is forbidden, even if their information is publicly available. LinkedIn sends an automatic message to let people know you have viewed their profile, and certain state bars will even hold that against you, like the state bar of New York.
Don't spam. As well as looking unprofessional, it might seem like you don't have enough work to focus on if you post to LinkedIn too frequently. Generally, 2-3 posts per week is a safe limit. It's fine to comment and like others' comments but try to stick to sensible limits and avoid being the person who fills everyone's notification feed.
LinkedIn is likely the social media platform with the most potential for lawyers. There are superb opportunities to generate business and expand your network, building relationships with potential future clients. Finding the right balance and getting value out of your interactions and time investment in LinkedIn can take some judgment on your part.
If you want help finding the right groups or general guidance on navigating the landscape of LinkedIn, Lasting Trend can walk you through the process from start to finish.
Twitter for Lawyers
Twitter is a free microblogging platform. It has a post limit of 280 characters, allowing users to share small nuggets of information, along with photos and videos.
Twitter can work well for your law firm because:
You will have potential clients who use Twitter.
Other attorneys across the country use Twitter, providing networking opportunities.
You'll be able to connect with journalists and other members of the media.
It'll help you stay up-to-date with the very latest information and opinions on news stories relating to your area of law.
Twitter Tips for Your Law Firm
Create a profile with a brief and suitable bio, including a link to your website or blog and a hashtag relating to your area of expertise such as "#accidentlawyer." Putting a hashtag in your profile will help you to reach users who aren't following you yet.
Twitter shortens links automatically now, but options like Bit.ly, Buffer, and Hootsuite help you to track activity with useful analytics reports.
Use Twitter Lists to view tweets from a specific set of users and avoid filling your feed with white noise. Twitter can be very chaotic, and its complex algorithm means you might miss useful tweets from users you have a vested interest in. Using Twitter Lists is a great solution, allowing you to catch every update from interesting accounts.
How to Use Twitter in Your Firm's Marketing Strategy
Choose the right time to tweet. The right time may vary depending on your target audience, but typically good times to catch followers are when they might have some downtime like during lunch, commuting hours, and early in the evening.
Tweet regularly. You should put out content consistently to increase your following on Twitter. Otherwise, you simply won't appear on users' feeds. Put out something relevant five or six times a day. Remember that a tweet doesn't have to be an original message. Include a good mix of links to your news or content, articles you find interesting, original opinions, and other users' retweets.
Check your mentions. Interact with and thank people who retweet your content and spread your message for you. Make sure you are actively attributing the sources of the information you share, ideally tagging them into the tweet with the "@" symbol.

Use images. Tweets with pictures can get more interaction, and Twitter algorithms may favor them to create variety in the feeds of its users. As a law firm, it isn't always easy to find original images for your content. Sharing pictures of judges, gavels, and the famed scales of justice is cheesy and will hardly make you stand out from the crowd.
Check your Twitter feed for news. Follow interesting accounts and create lists of influencers who share content relevant to your areas of law. A patent attorney might follow the USPTO and the top 10 IP blogs, turning their Twitter feed into a useful stream of content relevant to their profession. Twitter often has the latest news because it can react faster than traditional media. It also helps you to gain insight into general opinion on a subject. It's also important to be aware that Twitter is home to an almost infinite number of bots, and replies don't always provide an accurate reflection of public opinion. Consider following your competitors to see how they use Twitter and what kind of press attention they receive.
Follow lists. You can follow lists other users have created, helping you to discover new accounts and saving you the hassle of populating a list of users yourself. You can use Justia's Legal Birds listing for a list of Twitter users specific to different areas of practice. Other useful accounts to follow include Lawyers.com, Avvo, Bloomberg Law, the American Bar Association, and Above the Law.
Here is a great list of helpful tools for discovering and selecting the best hashtags for use on your firm's social platforms.
hashtags.org – This site makes use of Twitter's streaming API to gather hashtag data. When you search for a hashtag, it provides you with a definition, along with relevant tweets, related terms, and useful statistics. This is great for planning content and forming a strategy, as it lets you know how potential clients are using hashtags.
Tagdef – This is a useful tool for decoding the hashtags and acronyms that are used to get around Twitter's character limit.
Trendsmap – This is an excellent option for tying hashtags to locations, based on data shared by users.
Keyhole – You can use Keyhole to show a word cloud of related hashtags, which is useful when you want to find associated terms and get new hashtag ideas.
Tagboard – We recommend Tagboard as a tool for tracking posts related to a specific hashtag, acting as a bulletin board for a specific topic.
hashtagify.me – This site is ideal for searching hashtags and linking trending topics together to explain hashtag statistics.
Twubs – This makes it easier to view Twitter chats by organizing responses in a way that flows more like an instant messenger, something the official Twitter app can fail to do on occasion.
You can improve your experience on Twitter by using each of these tools and combining their functions. A proper understanding of the tools at your disposal can help you to get more out of the platform and take advantage of opportunities for growth at a faster rate. Take some time to understand hashtags and improve your level of audience engagement to draw more attention to your business, with the end goal of generating more clients.
Pro Tip: Bear in mind, what you say on Twitter is visible to the world. Familiarize yourself with your jurisdiction's ethical guidelines that govern your use of social media and avoid tweets that may violate these rules. What you tweet is your responsibility, and there is every chance that deleting an ill-advised post later won't be enough to protect you. Twitter stores the information separately, and users are notorious for screenshotting controversial tweets.
With the basics in hand, you now have the tools to begin using Twitter effectively. Create your account and start sharing. However, remember there is a correct way to use Twitter if you want to see real growth and enjoy substantial gains in your potential to reach new clients. As a lawyer, your time comes at a premium price, so it might be challenging to justify disrupting your schedule. If you need help managing your social media, Lasting Trend can handle it.
Tiktok for Lawyers
If you've written off TikTok for your law firm social media strategy, you should rethink your decision. While it's easy to mistake the fun videos as being for kids only, the videos and platform features provide law firms with an opportunity to grow their brand. In 2020, only 32.55 of TikTok users were under 20 years old. The remaining 67.5% were in their 20s, 30s, 40s and older.
Unlike other video sharing platforms, you don't have to be a professional videographer to create engaging TitTok lawyer videos. Even better, it's easier for lawyers to go viral on TikTok than on other social media platforms.
Why?
Well, TikTok automatically shares your videos on the #ForYou page and shares them with new Tikttokers. The #ForYou page is similar to Instagram discover page, which presents a unique opportunity for your videos to go viral.
TikTok allows users to share site and social links on their profiles, making it easier to redirect and gain new site traffic. If you don't know how to work with TikTok, check out our TikTok for lawyers guide to start acting right now.
Since law firms are just starting to realize the opportunity TikTok marketing presents, it's the perfect time to strike. But as you prepare, ensure you start on the best footing. Below are some law firm social media marketing strategy tips to get you started:
Have clear goals for your law firm marketing strategy and have realistic metrics and channels to track them
Define your target audience in detail
Create valuable and genuine content. Aside from being fun and catchy, they should be insightful, helpful and educational.
Include links to other social platforms and your site on your profile
Partake in trendy challenges and research valuable hashtags
Be consistent in posting
How to Do Law Firm Marketing Through Social Media
Different social platforms have different features and quirks. For instance, they differ in text and video requirements which affect production time. While it's great to have choices, it can be hard to know where to start and which platform you should prioritize. Luckily for you, Lasting Trend is skilled and client-focused. We can create and launch a law firm social media campaign depending on your budget and deliver valuable results.
With that said, below are some social media tips for law firms that you can use across platforms.
Research Target Client and Show Expertise
Assumptions are bad in social media marketing for lawyers. Luckily, with the wealth of demographic data and analytics tools available, you don't have to grope in the dark anymore. A lot of what you want to know about your audience to influence your law firm marketing goals are available, provided you know where to look.
Once you find your target audience, showcase your expertise to build yourself as an authority. It's only after people start viewing you as an authority that they'll trust and rely on you.
You can do this by providing valuable content in different formats. We also recommend sharing social proof like a review from a satisfied client.
Use Simple Language in Your Posts
Your target audience doesn't understand legal jargon. As such, use simple language and use short sentences in your posts. Moreover, social media users often skim, so punchy posts perform better than long paragraphs.
Challenge yourself to stay under two sentences. Lasting Trend understands legal jargon and can dumb it down in short posts your target client will understand and appreciate.
Join Social Media Groups
Social media groups are gems and are powerful tools because they contain relevant audiences which are more responsive and active to messages compared to other people on social media. When you share law firm content and engage in useful conversations, your law firm site is bound to attract the right audience with minimum effort.
If you remain consistent, you'll build trust and grow your brand. However, be careful not to bombard the group with ads as this will be counteractive. At Lasting Trend, we understand the posting threshold enough to remain relevant and not nag your audience.
Use Paid Advertising Opportunities
Paid social media for lawyers is a marketing channel you can use to adwords for lawyers or sponsored messages targeting a specific audience. You ought to be careful with paid opportunities as they can be costly without a strategy.
Always set an objective for the paid social media for lawyers. Your objective will vary depending on where your audience is on the Customer Value chain. You can ensure an ad targets a group of your audience who are at the same spot on the value chain. You can target people by interests, location, hobbies, and occupation. Lasting Trend understands social media for lawyers and the settings to target a specific audience for best results.
‍

Should lawyers use social media?
Yes. Almost all companies can benefit from social media as part of their marketing strategy. In service industries, where building relationships is critical, social media is essential for building a network online.
As social media made its mark on many industries, law firms increasingly shifted their perception and attitude toward online interaction, which is a trend that is likely to continue. According to the American Bar Association's 2017 Legal Technology Survey, law firms of all sizes and their teams, are increasingly interacting online via blogs, LinkedIn, Facebook, and Twitter.
Why should law firms use social media?
Along with the potential to increase your prestige on global platforms, social media also facilitates interactions with potential clients. People are increasingly used to contacting companies via social media pages, and some clients may even expect that level of interaction. Capitalizing on that consumer demand to appeal to your client base is just one of the benefits of social media for law firms, along with the many listed throughout this article.
How do law firms use social media?
The answer to that question may differ depending on your area of law, your location, and a slew of other factors. Your social media strategy must fit in with the specific nature of your firm and its business goals. Unfortunately, there isn't a magic formula to create a perfect social media strategy for everyone. A free consultation with our professional team can help to help you get started.
How many lawyers use social media?
A: One survey found that 81% of lawyers they asked had used social media in a professional sense, and 77% responded their firms had a presence on social media platforms. The most likely age group to use social media was 40-49-year-olds (93%), followed by those under 40 years of age (90%), then ages 50-59 (86%), and finally, lawyers aged 60 or over (73%).
There is also some variation between lawyers who specialize in different areas of law, with employment and labor law specialists being the most active at 89%. Reasons for using social media for law firms also varied, with career development and networking the most common (67%), followed by client development (56%), education and current awareness (39%), and case investigation (21%).
What are the benefits for lawyers using social media?
A: While the benefits are extensive, here are some of the main advantages.
– Marketing and promotion opportunities, which include regional and life-event based targeting and the chance to build online prestige, reaching more potential clients.
– Promoting the expertise of your team of lawyers online by highlighting their skills and achievements, as well as developing online relationships and scoring referrals and reviews, can improve your firm's credibility.
– Personal networking, which helps to build a sense of trust by establishing your firm as a known figure in the online community.
– It offers a way to demonstrate your firm's values and humanize your practice, with a range of social media platforms available for different target audiences.

Avvo is a useful service for accessing legal resources and helping attorneys manage their reputation online. Users can rate and review attorneys, and lawyers can interact with the Avvo community. It offers a premium-level "Advisor" service, as well as a free Q&A forum. It's a popular service with a high level of credibility among its extensive user base.
Why Should You Be on Avvo?
Since Avvo populates its site using the State Bar Association's publicly available records, if you're a lawyer, you're probably already on the site, along with approximately 95% of U.S. attorneys. Here's why you should take control of your listing and optimize it to improve your image on the website.
Clients research attorneys online. Many people like to use word of mouth when looking for a lawyer, so they can find someone trustworthy to handle their affairs. However, when they don't have a solid recommendation, there's a good chance the first place they look will be online. With so many options available, potential clients will be filtering law firms by location, specialist area of law, online reviews, and public image.
Control the conversation. Although you can't control what clients write, you can improve your image by responding professionally and respectfully to client reviews. It looks bad if you're simply ignoring people when they comment on your performance online. Remember, they can post a review irrespective of whether you've signed up or not. If you genuinely feel that a review is fake or not from a former client, you can dispute the validity, and Avvo has a process for verifying whether the client is genuine.
Step-by-step Avvo Marketing Guide
Claim Your Free Listing Right Now and Optimize It. By providing the right information, you can optimize your listing and get some control over its presentation. Subscribe to our list of top tips for creating a winning Avvo profile.
Participate in Avvo's Legal Q&A Section. Avvo's free Q&A section allows you to get involved and help site visitors, raising your prestige and giving you opportunities to present a good image online.
Consider Upgrading to Avvo Pro. Avvo Pro comes at a price but does offer some benefits. You can prevent competitor's ads from showing up on your profile and receive useful analytics about how many people are using Avvo to contact you. As a bonus, you get a "Pro" badge by your name, which users recognize as a sign you're invested in the community.
Advertise with Avvo. The benefit of advertising with Avvo is that you can target specific demographics, as well as people who are already looking for a lawyer. That's potentially valuable exposure, especially if your ad appears on a rival lawyer's page that only has a free listing.
Get as Many Reviews and Ratings as Possible. Don't confuse this with your Avvo rating, which is a number based on your activity in the community and some other factors such as professional achievements.
Join Avvo Legal Services. Avvo acts as a marketer and agent to offer fixed-fee advice sessions to its customers. When you provide this service, you'll earn money and potentially improve your ratings on the site. This service isn't available in all U.S. states.
Avvo is a crucial part of forming your online brand as an attorney. There's no reason not to claim your profile and gain control over your image on the site.
Start Taking Action on Your Online Presence
The field of law is a highly competitive industry, and law firms need to use all the tools at their disposal to secure new clients. While law firms and social media have had an occasionally rocky history, that's not a reason to neglect this excellent business opportunity.
Social media for law firms is a crucial aspect of any overarching marketing strategy, along with traditional approaches, SEO, and word of mouth.
Instead of neglecting social media because you aren't sure how to approach it, consider drafting in a professional for your law firm social media management. After all, just as your clients seek professional legal advice, you could benefit from professional digital marketing.
Benefits of Social Media for Law Firms
Legal social media can be tricky to navigate, especially with all the other work involved in running and marketing a law firm. However, the benefits are tangible, allowing you to form an online presence, increasingly the go-to place for people to find professional services. Both social media and the legal profession take time and require patience.
At Lasting Trend, we know how to tap into client psychology and get results when building a strategy of social media marketing for lawyers. Why sacrifice your own valuable time trying to get a handle on new concepts when you could work with a digital marketing agency, who already know the landscape of online marketing for the law industry?
When you book a free consultation with us, you'll be meeting with experts who can deliver measurable results for your legal practice.
‍