Are you looking for more clients to help grow your law firm? If so, it's time to invest in law firm SEO and hire an expert in-house or online. A law firm SEO expert can ensure your website employs current strategies to get noticed online.

This guide will help you to understand the process by describing, in detail, the following:
The real face of law firm SEO and what makes it different
Comprehensive law firm SEO tips with a step-by-step guide to producing great, optimized content
On-page SEO techniques suited for law firms
Tailored off-page law firm SEO services
Ready to get going, learn about SEO services for lawyers, and generate more business through your website?
The Real Face of SEO for Law Firms
The American Bar Association and census figures show that, in New York alone, there are 117,035 lawyers! Competing with 117,034 other lawyers is a huge challenge. How is it possible to stand out from the crowd?
For one, you have specialist areas of law. Additionally, proximity to clients is still going to have an impact even in a densely populated area. These factors can help you to carve out a niche, but you're still likely to be facing stiff competition. Granted, we have selected this example from the extreme end of the spectrum. In any case, even outside of New York, Florida, California, and D.C., you can face a large body of competition in any city.
Bear in mind that, to get noticed, you need to be landing in the top 10 search results – the first page on google. Statistics show that only 5% of users keep looking on to the second page. That means that if you're outside that first page on Google, you might as well not even exist.
Also, consider that much of your competition is already invested in lawyer SEO marketing. Attorneys commonly use a specialized SEO company for law firms – this can make it even harder to climb up those rankings. These rival firms are likely to be competing for the same keywords as you, further driving your law firm down the list if your SEO strategy isn't up to the task.
Your goal is to hit number one in as many Google searches as possible, and you're probably looking for the best law firm SEO company to make that happen. Although reaching the top is a major challenge, below we'll reveal some of the techniques we used to get an average New York City law firm onto the first page and send their organic search traffic skyrocketing, increasing it up to 20 times.
What is Law Firm SEO?
Search engine optimisation for lawyers is the art of driving potential clients to your company website by improving your site's search position on Bing, Google, and other search engines.
To improve business, thousands of attorneys have turned to SEO for legal firms to get organic traffic. Unfortunately, this makes ranking on page one today a challenge.
The good news is that many of them haven't got the slightest clue what they are doing. However, if you understand the factors search engines use to determine valuable website content and ranking, you'll have an easier time ranking.
Search optimization for lawyers can be broken down into:
Content marketing
This refers to creating and distributing different types of content like videos, podcasts, and blogs for law firm SEO marketing. Unlike traditional methods of advertising, content marketing is focused on relaying information without hard selling.
On average, clients view about 5,000 ads daily. Everywhere they look, there's an ad designed to persuade them to make money. Because of this, clients have gotten numb to traditional marketing. Instead, they are looking for authenticity and authority. They want to connect to your business before giving you their money.
Unfortunately, there's a fine line between hard selling and positioning yourself as the go-to attorney in the legal space.
Now, it's true that content marketing will get your business quality leads. But it's also true that the conversion rate doesn't beat that of service pages. But despite this, it's cost-effective and ideal for businesses that don't have lead generation systems in place yet.
Research and On-Page SEO Activities
On-page SEO for lawyers is optimizing attorney web pages to improve web search rankings and increase organic traffic to the page. Aside from posting high-quality and authoritative content, on-page SEO for legal firms includes optimizing meta titles and descriptions, headers, internal links, URLs, and images.
Research and on-page SEO for lawyers is still important because search engines haven't changed the basics of how they determine relevant content on the web. Though search algorithms have gotten smarter, they still look for keywords.
Some top-ranking legal pages have the best keywords for law firms in their title tags and meta descriptions. But on-page search engine optimization is a lot more than spamming content with keywords. Instead, you also have to optimize content for:
Dwell Time and Bounce Rate
User experience
Click-through-rate
Page loading speed
Search intent
On-page SEO for law firms requires constant and unending research of your practice and target client. For instance, The 2020 COVID-19 pandemic came with an increased need for lawyers dealing with unemployment claims. If you don't have pages on these claims, you are missing out on many potential clients.
Backlinks and Local Citations
Off-page SEO is an umbrella term for small law firm SEO tactics implemented outside your website. Often, off-page SEO refers to link building, but in practice, it's a lot more than that. Other SEO tactics include:
Content marketing
Citation building
Brand building
These tactics help search engines and target clients to perceive your expertise and develop trust.
Note that citations are different from backlinks. A backlink is a direct link to your site from content on another site. On the other hand, a citation is a direct mention of your firm's name, address, and phone number (in that order).
To improve local rankings, you need to manage backlink profiles, increase online brand presence and create local listings. Together, these tactics position you as an authority in your space and improve search ranking.
Tech SEO
Technical search engine optimization is a tactic of optimizing the site for indexing and crawling. With technical SEO, you help Google to access, crawl and index your site easily. Technical SEO isn't about web content or promotion but optimizing your site's infrastructure.
Some Tech SEO tactics include:
Site speed
Fixing duplicate content
Creating an XML or HTML site map
Adding structured data markup
With 54.8% traffic coming from mobile devices, if your site isn't optimized for mobile use, lead generation will be a pain leading you to think it's not worth it.
Law Firm SEO Tips: How to Design Awesome Content
Even with the best SEO, law firms need to produce good content if they want to generate business. Good content has the right structure and all the necessary information a user needs, providing a user experience that's meaningful and productive. If you can provide a good user experience, you have a better chance of converting traffic into contracts.
These are the key elements of great content for a good user experience:
Clarity and Readability – This doesn't necessarily mean making content more concise. The important thing is that the content is well laid-out, with clear headings, sub-headings, and other cues to help your site visitors scan and understand the content easily.
Information Architecture – Present content in a way that makes it accessible. This is related to the previous point but with a greater focus on hierarchy. Is the content on your page presented in a way that indicates the importance of each part? Does your content look appealing, and is it clear where a user should be looking? Modern web design factors the user experience in, rather than just a standard-fit aesthetic. You need a web design that mirrors and enhances your content.
User Focus – UX principles have helped web design, adopting principles from phone apps and various methods of interaction. The key to UX is putting the user first – consider who your user is, what they need, and how they can use your website comfortably.
Optimization for Conversion – The essential reason for using SEO for law firms to drive traffic to your website is to convert it into a business. Your website needs to direct people towards your key contact channels with a clear call-to-action and value proposition that is prominent and visible right when your user needs it.
Create a plan for each piece of content
Simple example – we're creating a plan for law firm blogs. It needs to follow a specific agenda, for example:
A definition of the given subject (for instance, a specific law or topic)
The types of cases surrounding that law
The most common signs indicating a legal scenario
A description of protection offered by Federal and State law
Describe what the person should do in that circumstance – include your call-to-action if appropriate
Offer some case studies of famous examples
Add an FAQ for an additional source of traffic
End with a summary that ties into who you are, the value of your law company, and a call-to-action
This is a basic template that offers a good base from which you can work. We've used this strategy for our client: a New York employment attorney. However, every post can be different, and it is important to include variety in your content strategy.
Pro Tip: Search your targeted keywords on Google and check the first page of results. Click into those links and explore them for inspiration in your content creation strategy. Keep in mind that the top three results account for 65% of traffic, so give those three the closest analysis.
Analyze your competition
Visit websites that do well with similar keywords to the ones you choose for your SEO. When reading, ask yourself the following questions to develop your law firm SEO strategy to compete against them:
How logical is the content?
How difficult is it to read?
Do they use keywords, and how often do they use them?
What is included in the title tag?
Do they use subheadings, and how do they use them?
What types of media (text, audio, image, video) do they use?
What does the call-to-action say?
A smart move will be subscribing to all your competitors' email newsletters. It'll help you to get more legal newsletter ideas and which content you should include.
Start creating
When you create your own content, consider assembling material you like from your competitors and other sources. Assemble all the content and analyze the information it communicates. Organize the content and rewrite it, adding your own original ideas, or write new content according to your plan.
Pro Tip: Never steal content from others. Use what you like as inspiration, rewrite it in your own words and always try to add something new. Analyzing your competition will help you to find gaps in the work of others, which you can fill in your content to get an edge.
How to start a legal blog?
Blogs are excellent tools for attorney websites to provide value and showcase expertise and subject knowledge. When people need legal advice, they turn to the internet for answers. Instead of reading scholarly articles, they prefer blog posts that provide direct answers.
To succeed, you need to start the blog on the right footing. This means:
Don't make misleading or false statements
Add disclaimers
Avoid comparison with other attorneys
Don't provide legal advice. And if you do, add a disclaimer
On-page SEO techniques suited for law firms
SEO for law firm websites is entirely different from other forms of search engine optimization. Even though law firms, like many others, typically target clients from within their local area, the enormous supply of lawyers creates an additional challenge.
Keyword Research
Getting the best results possible hinges on optimizing your website for the best available keyword terms. This is a vital part of law firm SEO services, which a law firm SEO company can help with, and focuses on the terms your potential clients use to find their legal services. These keywords need to meet several important requirements:
They must be clear and relevant to the services you offer, as well as your geographic location.
They must have a high search volume, which implies a greater potential to drive traffic to your site.
Keyword Differences
There are many different types of keywords based on intent: commercial, informational, navigational, transactional. For law firm marketing we recommend concentrating on both types of keywords: informational and commercial. Because when you marketing your law firm in the USA you want to bring some value to your reader, not only offering you service to you. Even informational keywords can bring you a good amount of new clients.
"Commercial" Keywords
These keywords exist at the bottom of the sales funnel, which means they are used when someone is looking for legal service right away.
Intent: Looking to acquire your services. Keyword Examples: "Hire a personal injury attorney in NYC," "labor and employment lawyer in NYC."
"Informational" Keywords
These words are at the top of the sales funnel, which means the user may or may not need your services in the future.
Intent: Looking for information related to their problem. Keyword Examples: "How long will my personal injury case take," "non-compete agreement in NYC." Since "commercial" keywords are more likely to generate business directly, they should be your main priority. However, a completely sales-focused website is unlikely to project authority and professionalism to a visiting user.
For this reason, it is important to maintain a balance in how you use them in your law firm SEO strategy. In general, "commercial" keywords are better for landing pages, which describe specific services. "Informational" keywords, on the other hand, fit better with blog posts that can go into more depth on a specific subject.
Long Tail vs. Short Tail Keywords
Short keywords are general and consist of one or two words, while long-tail keywords contain three or more words.
For instance, DUI attorney free consultation in New York is a long tail keyword while DUI attorney is a short tail keyword. Though they are both commercial keywords, short-tail keywords are harder to rank for.
Putting Keyword Knowledge into Practice
Say, for example, that your specialist area of law is personal injury. You might want to target the query "how long does a personal lawsuit take?" Your first step should be to find the relevant keywords for that article. To accomplish that, you need to do the following:
Conduct Initial keyword research
Open a new incognito window and run a Google search.
Use the search term "how long does a personal lawsuit take?"
Press Enter to retrieve the results.
Use commercial software, such as SEMrush, Ahrefs, or MOZ, to extract all the keywords into a spreadsheet.
Include location-based keywords
Typically, lawyers serve a clientele that is local to facilitate easy face-to-face meetings and other travel requirements. Potential clients naturally use these terms in their search queries. For example, a New York City resident is more likely to use "personal injury lawyer NYC" rather than a generic "personal injury lawyer."
Pro Tip: Use variations of geographic tags to account for all possible searches and help find gaps in the law firm SEO race in your area. As an example, a potential client in New York City might also search: "NYC," "New York," and "NY".
Use Semantic-related words
These are related to your main keyword, and Google expects to see them on a page when it is generating results. Find these by typing your main keyword into Google and scrolling down for the "related searches" section. These hints from Google reflect the real behavior of users and can be included to enhance SEO on your article.
Organize keywords
Extracting keywords can produce a list of thousands, which makes it hard to filter them down according to your exact needs. Filter them down according to the following criteria:
Relevance to your topic
Search volume (more searches mean more potential, so aim for at least 75-100 per month)
Keyword difficulty (the lower, the better – don't aim for anything rated with a difficulty much higher than 70)

Once you have narrowed down a list of 10-15 keywords that reflect your idea for a blog post, you can select a primary keyword for your content. Make sure to use variations of high-volume keywords.
Pro Tip: To narrow down keywords more easily, sort the keywords by volume and difficulty to get the most appealing words. You can use a spreadsheet program for this purpose and utilize filters to sort them by volume or keyword difficulty.
Create a title tag
A title tag is an HTML element that specifies the exact title of a web page. Search engine results and tab headings show this title, as well as social sharing functions.
For a good title tag, try the following method:
Enter a major keyword in an incognito search in Chrome
Copy all the title tags on the first page into a spreadsheet and look for commonalities
Highlight these common elements (paying attention to the top three results, which get 65% of traffic) and incorporate them into your own tag
Use keywords for different types of content
With your compiled list of keywords, you want to find optimal places on the page to include them. A law firm SEO expert makes sure that the keywords are in parts of the page that most closely relate to them. Include your main keyword in the following page elements:
URL – www.yourdomain.com/personal-injury-lawyer-nyc
Page title – "Personal Injury Lawyer in NYC"
<H1> tag – "How to find a good personal injury lawyer in New York"
One image title – "personal injury lawyer NYC"
One image alt tag – "New York personal injury lawyer"
The rest of the content – Throughout the piece, at least 2-3 times
Create subheadings
A good option for subheadings is to incorporate long-tail keywords into question-like subheadings. Long-tail keywords are longer keyword phrases that are similar to full clauses or sentences. The Keyword Magic Tool on SEMrush can make extracting long-tail keywords relatively easy.
Add examples and an FAQ section
Sharing a real example from your firm's experience adds additional interest and authority and projects a professional image. Likewise, an FAQ builds trust with a customer and helps to answer their questions, getting them ready to follow your call-to-action.
Pro Tip: FAQ sections often contain many common phrases, sentences, questions, and word combinations that might tie into your main keyword. These are essentially semantic related words that improve your credibility in the eyes of both Google and your target audience.
Link building: Backlinks and Citations
To understand why Google values good links, think of link building the same way you form relationships. Imagine meeting a stranger who claims they are good, but everyone, including your old friends, insists he is bad, and you shouldn't trust him. The 'new guy' is a new attorney website in the SEO space, and 'everyone' is all sites in the legal niche. Your old friends are authoritative sites.
But there are white and black hat techniques to build links. For the long-term performance and viability of your site, link-building tactics should adhere to Google's guidelines. Usually, black hat techniques take a shorter time than white hat techniques. However, the latter is more sustainable.
They include:
Content promotion
Guest posting
Comments on authority blogs
Creating infographics
Black hat techniques include:
Keyword stuffing
Link schemes
Doorway pages
Hidden links
Abusing structured data
What backlinks should you get for a law firm?
A law firm website in its early stages is far from being an authority or reputable. To start the link-building process and build credibility, you should start from directories. Many directories are free tools, but some operate as subscriptions.
Luckily, there are a couple of highly reputable directories specific to law. Some enable linking to websites and social media platforms:
Avvo
Justia
Abogado
FindLaw
HG.org
Lawyer.com
Martindale
Lawyers.com
Mediate
Nolo
National Trial Lawyers
SuperLawyers
Some non-legal platforms like Yelp and Yellowpages can also add your business to the legal category.
As you target these directories, don't forget to add your law firm in local directories, if any. As you do this, it's crucial to follow the NAP rule (include your name, address, and phone number).
Law Firm Tech SEO
Technical SEO is the first step of developing a better search experience for your law firm's website. Technical SEO doesn't include keyword research, social media strategies, analytics, or backlinking. Instead, it focuses on usability, speed, and overall user experience.
As a law firm, you should understand the basic Tech SEO concepts. While you might not implement them yourself, you can have a healthy conversation with Lasting Trends to get you the best results.
With that said, technical SEO for law firms is vast. However, from our experience serving numerous law firms, we've noticed common technical SEO issues. Below is how you can solve these issues with website optimization for law firms.
Mobile Optimization
In 2018, Google launched mobile-first indexing to try and make the internet a little more user-friendly. Google claimed that many of its users were running searches through smartphones, so the mobile-first indexing feature prioritized the ranking of mobile-optimized websites.
At the time, a hand full of attorney websites were mobile optimized. But after the rollout, mobile-optimized law firm sites increased significantly. So today, if your site doesn't meet this criterion, your competition will always be miles ahead.
If your website is old, we run a mobile-friendly test. After the test, we'll work on improving the problem areas while following Google's mobile optimization guidelines like:
Using readable text negating the use of the zoom function
Avoid software that isn't common on smartphones like flash
Space links well enough to allow easy tapping
Get in touch with us today for a quick consult and tips on how to get one of those great law firm websites.
Schema
Google tries hard to understand website content. However, to do this efficiently, it needs your help. You can provide clues about page meanings by adding structured data to your site. Structured data is the standard format for providing information about a site and classifying the page content.
While there are many schema attorney sites can use, we recommend using a special schema for lawyers found on Shema.org. The schema includes properties from Local Business, Organization, Place, and Thing.
Check Website from User Perspective
Website developers make loads of assumptions during design. Most of these assumptions affect usability and are the difference between the user sticking around or leaving the site fast and never return.
When testing usability from a user's perspective, you should consider several factors:
Does your site serve all devices – in the 21st century, users access the internet from different gadgets with different screen sizes and operating systems. Your law firm site should be easy to access from any of these. Test how your site is displayed on the different devices and ensure they are easy to load.
Logical CTA – whether you want your visitor to fill a form, enter their email address, or hop on a call with you, the CTA should be located in an obvious spot, be noticeable, and clearly labeled.
Website speed – nothing is more annoying than a slow attorney site. Users expect pages to load in less than 2 seconds.
Easy navigation – the last thing you want is users getting lost in your site and cannot find what they need. All information on your site should be logically structured to give a seamless journey and allow easy and fast navigation.
Stick to conventional standards – there are attorney site standards that users have become accustomed to. For example, users expect to find navigation links at the top and that the logo navigates to the home page. While changing these up might seem like a good idea, it'll most likely confuse and frustrate visitors, which results in them looking elsewhere for legal services.
Final Tech SEO Audit
There is a lot of DIY site audit advice floating around the internet.
On many other fronts, DIY has a lot of downsides. For starters, effective lawyer SEO tools are expensive. Moreover, a technical SEO audit requires you to understand the ins and outs of technical SEO and how to solve issues that you might find.
A professional technical SEO for lawyers takes 40+ hours minus time spent developing efficient strategies to solve the audit issues. Don't make the mistake of hiring the first agency you come across. For great results, you need an agency that understands the intricacies of your industry. Lasting Trend has experience with lawyer website SEO. We are transparent with our law firm's marketing plan and process. We'll answer any questions you might have about the process and explain what to expect. Feel free to get in touch for a no-obligation consultation.
Tailored off-page law firm SEO services
You can have the best content out there, but professional SEO services for lawyers also incorporate link building to get real traction on the site. Without including backlinks to your site in your law firm SEO strategy, it is next to impossible to rank high in a Google search. Below are some suitable law firm SEO strategies to try for link building:
HARO – It stands for "Help a Reporter Out" and it helps journalists and other media personnel to find sources for their stories quickly. When you sign up for their daily emails, you receive three emails per day with different requests. If you write a good response that beats out the competition, you could earn yourself a media mention.
Quora – This is a high-visibility Q&A site that you have probably already encountered online. Use the Google search command "site: quora.com" followed by your main keyword to see possible questions that relate to your content. Write a helpful response and include your link at the end, then hope your answer is up-voted to improve your visibility on the site.
Link Outreach – This can be an effective method, but it requires that you build up a contact list of potential clients. Always link to a specific piece of content that can help someone on the receiving end of the outreach piece. Don't try to send someone to your homepage, because the chances that they might follow that link are low.
Internal Linking – This can help to share link equity and ranking signals. A good general strategy is to link from your blog posts to your landing pages, using the power of your informational traffic to fuel your commercial rankings.
Guest Posting – This is a surefire method to place a quality backlink to your site. Make use of Google search terms to find opportunities for writing guest posts. Terms such as "accepting guest posts" and "write for us" are good places to start. Ideally, you should write this content yourself. Outsourcing it could diminish the message and might limit the potential of your guest post.
What Else Law Firm SEO Professionals Can Offer
Basic SEO practices are similar for all sites. However, a couple of SEO aspects differ between industries that make all the difference during search engine optimization. First, communicating the value of a law firm's services isn't like selling shoes.
Also, the methods potential customers use to search for attorney services and information are different from consumer electronic search habits. As a result, conventional marketing knowledge, tips, and tricks from other industries don't always work in for attorney sites.
Generally, you'll get better results from a law firm SEO agency than a general SEO agency. Learn how Lasting Trend builds and improves law firm SEO before giving us your business.

What are the key ways in which SEO can benefit law firms?
Lawyer SEO marketing provides a low-cost way to drive traffic when compared to Google Ads and other pay-per-click advertising. Side note, there are some ways to improve PPC for law firms as well. Although, people may trust organic search results more than ads. In this way, well-executed SEO can also provide you with greater credibility. SEO helps your law firm stand out from the crowded market and can massively increase your traffic. Increasing traffic is a critical step in generating sales – SEO could help your business to grow.
Do law firms need SEO?
As with all products, visibility online is a key way of driving business development. Increasingly, people go online and use a search engine to find services, local or otherwise. Since most people do not extend their search past the first page of Google results, poor SEO could limit the online presence of your business. Like all companies, good SEO helps your potential clients to find your website. In a competitive market, law firms need SEO to achieve visibility among the crowd.
How can I get my law firm to the top of Google rankings?
A: There is no simple, unchanging answer to this question. Search engine algorithms change and grow more complex as time goes on.
These are some important factors to consider when trying to achieve a first-page ranking:
– User experience (UX)
– Content quality
– Backlink count
– Mobile-friendliness
– Loading time
However, these alone don't provide a comprehensive answer to this very complex (and probably unanswerable) question.
Why should I care about title tags, headings, and meta descriptions?
These elements are part of HTML code and your page layout. Google prioritizes these as part of its algorithm when generating search results. Including your keywords in these elements helps you to achieve higher rankings in Google searches, and is an important part of any law firm SEO strategy.

Bonus: Site Structure
Structuring attorney website design can require a little work, but it is an effective way to improve both user experience and search engine optimization for your site.
Broadly, it is possible to divide law firms into three website categories for lawyer SEO marketing:
Single Service – This might be a law firm that focuses exclusively, for example, on immigration service. In this case, it can be effective to use a domain that exactly matches your target keyword, such as "immigrationlawyersnyc.com." Individual pages of your site should then focus on the niche services you provide, and these can help you to gain high ranks in very specific searches.
Multiple Service – If your law firm provides personal injury, real estate, and divorce law services, it is best to use a branded domain name such as "yourcompanynamelaw.com." Then, use service pages for each of your main areas, and create sub-service pages, branching deeper into the niche offerings of your firm. This way you can still capture specific search efforts while generating presence in all your main areas.
Multiple Location – In the case, your firm has offices in multiple locations, you need to adjust your law firm SEO tactics slightly. Add an additional layer in your site directory for each office. Although this can result in more work, it is a necessary step for achieving good rankings in local searches. You need to rewrite content for each location to avoid penalties to your search ranking due to duplicate content.
Bonus: Optimize for Local Searches
Set up and verify your "Google My Business" page. After signing up, Google sends you a postcard in the mail. On the card, you can find your verification code to confirm your registration and begin to show up in localized searches. Optimize your page by filling in all the available options with particular notes to the following:
Use your main keyword in your page name for a huge ranking boost
Write a 150-200-word description with direct links to your service pages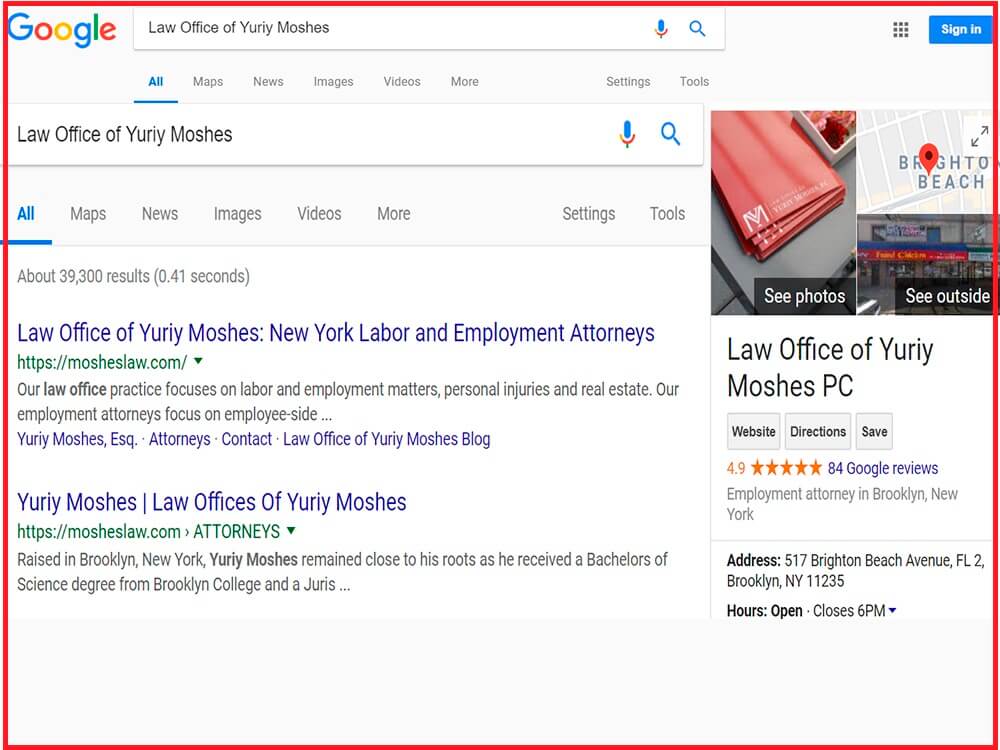 Once set up, clients can review your business, which helps visibility and promotes customer faith in your business. Consider outsourcing your listings on local citations and directories, as it takes a long time to complete this mind-numbing work.
Bonus: Ethical Advertising
Though Google allows SEO and marketing legal services, it expects law firm sites to play by specific rules. The last thing you want is to spend a lot of money building a website and optimizing it only to get a letter from the Bar.
To avoid this, Lasting Trend strictly adheres to ethical rules, including:
Having an airtight disclaimer on the website so that users don't misread and drag your firm to court
Site registration – depending on the state, we'll register your website with the state
Avoid material misrepresentations about the law firm
Aside from these, we stay away from certain statements that guarantee or imply a specific outcome. If you need an ethical law firm advertising ideas, you just have to follow rules. As an attorney, you should remember to avoid working with shady marketers. In all other situations, your website will be fine.
Growing Your Client Base With SEO
Outranking your competitors in the highly saturated law firm marketplace can be a challenging task. The factors involved range from choosing the right keywords to law firm website design.
It is vital to pay attention to the latest trends in SEO and hire the right SEO company for your law firm that can manage the details for you. Effective SEO can drive organic traffic and ultimately get more potential clients looking at your offerings, which puts you in a great position to generate new business.
The right law firm SEO tactics not only increase traffic but help drive traffic that converts into contracts. The complexity of law firm SEO results from the need to adapt to the latest Google algorithm changes constantly. Doing this takes a lot of time and investment, and in many cases, hiring law firm SEO experts is the best choice for your business.
‍