The reality of conducting business these days is that offering excellent services and products isn't enough anymore. In any professional field, you'll need to advertise and promote your company to attract customers. So, any business that needs visibility requires help from a competent SEO agency. Otherwise, how do you beat the competition or expect people to know who you are?
The quickest way to make yourself known and drive organic traffic to your website is to make it to the top of Google's page results. This requires strategic SEO campaigns. Lasting Trend, a professional SEO agency in NYC, knows exactly how to achieve real results.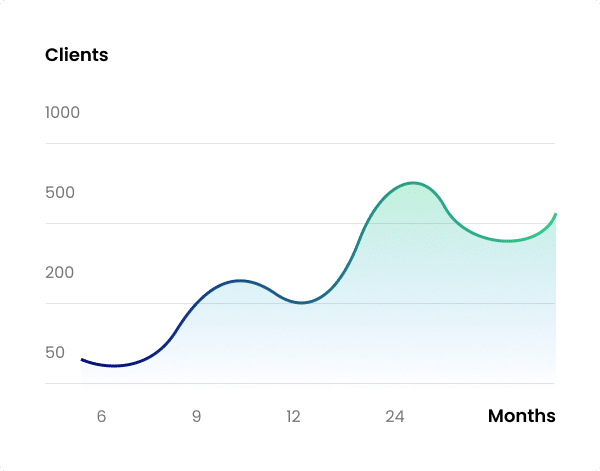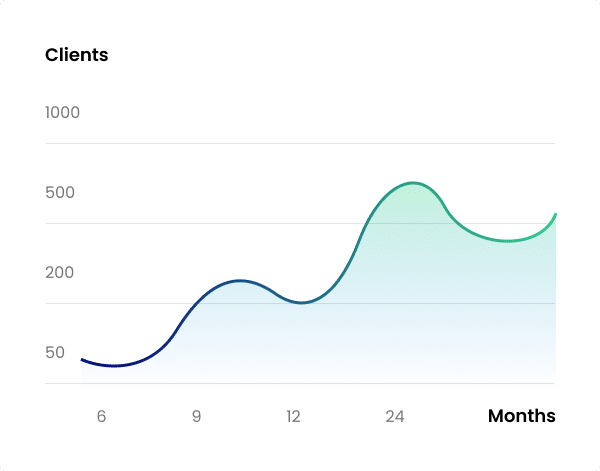 You can see an average increase in leads within the first 2 years. Most of our clients come to us with less than 10 online leads a month.
SEO Agency for Small Business
In any industry and for companies of any size, having a strong online presence is key. But especially for small businesses, you have to stand out from competitors and know how to direct people to your website. Here is when businesses need SEO campaigns.
If you don't make the best decisions in terms of your marketing strategy, you can seriously harm the success of your business. At the very least, you'll generate non-specific leads with no real value.
Or you might waste money on unproductive Internet promotion, which you could have spent otherwise. For example, if your efforts only get the website second or third search engine pages, that will essentially mean that very few people will come across your website.


At Lasting Trend, our goal is to help convert internet traffic into qualified leads and bring more potential customers for your business. Our SEO agency in NYC knows how to leverage factors that contribute to a high ROI, and we'll use our arsenal to catch the attention of Internet users. Combining a well-planned strategy with high-quality products you offer is the most effective way to grow as a business.
Our SEO company in NYC extends services to professionals from different areas. We'll create a tailored strategy based on what you specialize in. This way, you'll be able to connect the right people with your website and increase awareness in the target niche.
Contact Lasting Trend to build a strategy from the ground up and enhance your existing one. We deliver measurable results that work to your advantage for the long-term. Our SEO agency team knows how to promote your brand locally, nationwide, or even internationally. In other words, we know how to put it right in front of consumers that you need through organic search.
SEO-Optimization: How It Works
Some companies disregard search engine optimization and marketing, not knowing how much value those bring. Let's see how an SEO company in NYC would help you.
The point of SEO is attracting new customers and retaining current customers by making the company's website visible on search engines. An SEO expert improves a website's ability to drive traffic and creates useful content for the consumers that are searching for specific answers. So, as you can tell, SEO is a time-intensive, elaborate strategy, and it does demand significant attention.
With a carefully crafted search engine optimization for the New York local audience, you'll drive the right people to your service. For example, potential customer searches for NY businesses, and your brand organically comes up in their results. Or if your address appears on the Google Map search results, they'll learn that you are a local brand, and it'll raise their interest instantly. Whenever we work on bringing qualified leads, we pay attention to targeted traffic.
One of the biggest mistakes marketing companies do is not learning enough about the client's business and the last tendencies in the market. In contrast, our SEO firm in New York City analyzes each particular case, hidden growth opportunities, and identify appropriate ways to deliver your message to the target audience. Then, we apply reliable tools and technologies to implement our strategies in practice.
Also, as part of our marketing services, we'll walk you through the steps of using the results efficiently. After the project is completed, you'll know how to maintain success and continuously improve your competitiveness in the online space.
Choose Lasting Trend as your partner SEO agency in the USA for significant growth in just a few months. Get a free consultation now!


Common Client Questions
Our clients have a lot of questions when it comes to developing SEO strategies. These days, there are many freelance SEO and content writers offering seemingly the same services. Or some people wonder whether it is better to have a marketer in their staff. But do they actually match the standards of a professional SEO agency? Let's analyze.
Here is what a reputable SEO agency in New York should be able to offer:
a clear understanding of the US market and specific industry niches
experience and expertise needed for the project
reliability and responsible handling of sensitive data
practical resources and specialized tools
In most cases, freelance workers can't provide all these elements, at least not within a reasonable timeframe or far from budget-friendly. To avoid taking risks like this, we recommend only trusting professionals in search engine optimization in New York, like us.
Additionally, let's make some calculations. On average, salaries for positions like a marketing director, senior SEO, content writer, and junior designer are $275,000/year in NYC. We'll do it 4.5 times cheaper – only for $60,000/year.
$60,000/
year
with Lasting Trend
4.5 times
cheaper
than in-house team
$275,000/
year
marketing director, senior SEO, content writer and junior designer
Within the first years of our work, we've already managed to help over 20 companies like yours. Our clients have seen an increase in customers up to 5 times after the first six months of our cooperation. You can learn more about our case studies to see how exactly the process took place.
As a top SEO agency in the USA, here are some other accomplishments we're proud of:
9 th Place
Top 15 New York SEO Services
Companies – Leaders (Clutch)
15 th Place
Top 90 SEO Companies
in New York (The Manifest)

We are Google Ads certified partner

5-star verified reviews profile on Clutch from real business owners
You have a great opportunity to achieve as much long-term progress as our clients and even more. Contact Lasting Trend experts to let them know what you need, and they'll make it happen!
What We Offer and Our Methods
Lasting Trend is an SEO agency in NYC, but our range of services extends much further than that. We are a full-service digital marketing agency, meaning, we manage all aspects of your company's online presence.
Some of the essential elements of marketing your business successfully in highly saturated environments are:
Perhaps every brand wants to know how to transform a snooze-worthy topic into a more engaging read. Besides, relevant content gives customers a reason to do business with you. Another challenge in search engine marketing is helping people and search engine robots find this content. Leave these tasks to our SEO company in NYC.
We're more interested in sustainable progress rather than quick wins. For this reason, we practice a multi-step approach that ensures the long-term success of marketing campaigns. To focus on key areas of Internet promotion, we tackle them in the following stages.
Finding "low-hanging fruits"to get SEO boost
Site analysis
Niche research
Competitive analysis
Brainstorming and strategy approval for 12 months
Developing traffic growth strategy

- Content Plan
- Link Building
- Technical SEO

Development of reporting system and proper analytics setup
Implementing customer growth tactics
Blogging
Webmasters outreach
Search and/or social ads
Strategy correction based on the first dataset
Sales Grow - your investments are starting to pay off
Conversion rate optimization of landing pages
Email newsletters
Sales funnel optimization
Marketing strategy review and development for the next 12 months
Here is how our SEO firm in New York provides our clients with SEO strategies that work. By the end of the project (and sometimes even over the course of a running project), we help to improve Google rankings and increase the website's conversion rate.


The Results You Get
Strong organic search growth does not just happen by chance – if you're interested in improving your rankings, you'll need a robust search strategy. Luckily for you, our SEO agency in New York, Lasting Trend takes over the entire process while you can focus on your primary line of business.
We offer the whole SEO agency package – full support during the entirety of the project, SEO-optimized website fine-tuned to attract the right users, and significantly higher returns. Our custom strategies are tailored for your specific business needs, which means you'll get a results-oriented plan you feel confident in.
Get a smoothly running site that strengthens your brand's overall success while also saving $215,000 per year on staff and freelance contributors! Who could've guessed that increasing profits several-fold with an SEO expert could be such a cost-effective venture?
The Results You Get
SEO-optimized website
to attract new clients
Full support
during the entirety of the project
Saving up to $215,000
per year on staff and freelance contributors
An increase in customers
up to 5 times after the first six months
But it doesn't stop there. Our strategy will continue to have a positive effect over a long time. Since we don't rush the results at any stage of the project, you gradually develop a deep library of valuable, high-quality content. These measures yield reliable results that don't fade away.
Fill the form in just a few minutes to get a free consultation on search engine optimization in New York today!