Here at Lasting Trend, we're known for our passion for helping businesses generate more leads and more traffic via improving their online presence. We have successfully helped countless clients over the years utilize each and every cent of their marketing budget efficiently, and we know that the most efficient way to increase your revenues is a personalized digital marketing strategy. We love to see the small businesses we help grow!
Small businesses are the backbone of the American economy and of Brooklyn, where we are based. Small businesses are the backbone of the Brooklyn economy — accounting for 98% of New York City's businesses and 40% of all jobs in the borough!
COVID-19 and CARES Act
That's why our mission is to help small businesses grow. Right now, small businesses are hurting. The COVID 19 pandemic and ensuing lockdowns and economic calamity have affected small businesses more than most — and now big businesses and banks are preventing small businesses from accessing paycheck protection program loans meant for small businesses in the CARES Act! We despise this — which is why we're here to help small businesses however we can. Now is the time for small businesses to maximize their ROI on marketing spends, which is why we are here to help!
One other easy way that you can help small businesses during this time is to leave a rating or review for your favorite small businesses! If you love your corner bar, leave them a review on Google Reviews. Have a favorite restaurant? Head on over to Trip Advisor and give them a review. Also, if you love your B2B service provider, cloud consultant, or IT firm, leave them a review on Clutch!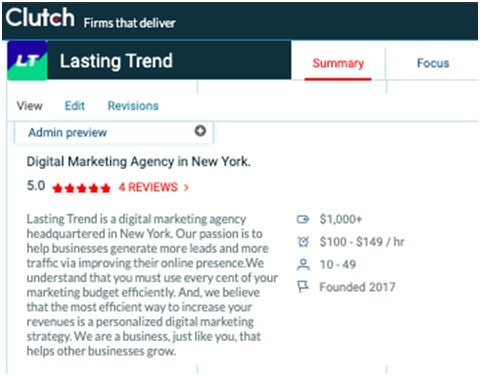 Clutch and The Manifest
Clutch, and their sister site The Manifest, are our preferred ratings and reviews platform of choice! The Clutch includes company listings from across an array of B2B services. They have a team of dedicated analysts who take the time to conduct reviews with independently verified clients from around the world. Then, their editors curate the content into a case study style format, publishing the reviews in an easy to read manner! Clutch is the gold standard for B2B service providers, which is why we are honored to have a perfect 5.0-star rating on the site!
In a recent review, the owner of Green Papas Premium CBD praised our SEO and Digital Ad Management work, calling our team "full of problem solvers!" If you're interested in seeing how we can solve your marketing problems, contact us today!