What strategies can you employ to increase market share and attract customers? Start advertising on YouTube. Instead of investing large percentages of your media budget on television, relocate it to YouTube ads – for every $1 spent on a TV ad you could get2 to 8.5 times better return. Not to mention, you will easily see how to advertise on YouTube effectively through its built-in analytics.
Benefits of YouTube Video Ads
Outlined below are some of the benefits of YouTube video ads placement:
Your potential customers are already on YouTube. Since people already search for videos on YouTube, your company can be seen on an incredibly large platform.
Video advertising on YouTube lets you reach the right people. There is no reason to show your ad to everyone. Fit into your specific niche – be it sports, fashion, travel, or anything that comes to mind.
It is cost-efficient. YouTube advertising cost depends on whether people choose to watch the full video or click on an ad. Otherwise, you don't have to pay for it.
Advertising through YouTube allows you to get a better insight into what you can do to improve. Get informed on what aspects you can work on for better results.
Are YouTube Ads benefits worth the time, money, and effort? Absolutely. You can go from having zero visitors to attracting thousands with one campaign. Advertise YouTube videos with Lasting Trend, and we will take care of implementing, promoting, and monitoring the ads – you will enjoy reaping the fruits of our labor.
Understanding Different YouTube Advertising Formats
As an introduction on how to advertise on YouTube, it's best to figure out what type of ad best suits your needs. You don't have to limit your campaign to one type – you can either choose one or combine the following formats.
TrueView Ads
TrueView ads are skippable ads that play before videos begin. There are many success stories on how YouTube advertising through TrueView, such as Superdry – This Is The Jacketwith 37% and 55% rise in digital and product sales respectively. Here is why it's a useful tool for YouTube video advertising:
The versatility of video options
You don't pay for uninterested audiences
You advertise a YouTube video to a bigger audience by combining Google and YouTube users
Here is how to advertise on YouTube and boost your brand's visibility through two types of TrueView.
In-Stream ads are 12 seconds to three minutes long, but viewers can opt to skip them after five seconds. You pay when viewers decide to watch the ad in full, and while it is playing, there is a banner at the top right that directs viewers to your site.
Discovery ads are located alongside other YouTube videos, either on the homepage or on the 'related videos' bar. There is no time limit, and you don't pay if people fail to click on the ad.
Non-Skippable YouTube Ads


Some stories require longer formats. However, don't go overboard with the length of non-skippable YouTube ads, particularly because the website stopped supporting 30-second ads in favor of 20-second ones.
This format can appear as:
pre-roll YouTube advertising that directly plays a featured video
mid-rolls that play in videos exceeding 10 minutes in length.
Both types of ads are paid for on a CPM basis, which gives you more power to control your YouTube advertising spending.
Aggregated YouTube data suggests that videos should be both audible and viewable. This way, you will create higher brand consideration among your audience because even if they are not watching, they can still hear your message.
Bumper Ads
This six-second format of video advertising on YouTube lets you put a non-skippable ad at the end of the video. You can fit a surprisingly extensive message in a six-second video, and you won't annoy your potential customers by taking up too much of their time. If you have already shot longer YouTube ads, you can recut them to a shorter format.
According to Google Internal Data, they estimated a significant lift in brand awareness, nine times out of 10, during their tests. So, YouTube advertising through bumper ads is an effective way to drive views and clicks to your brand.
If you need some inspiration on how to advertise YouTube videos, check out 20 of the top bumper ads.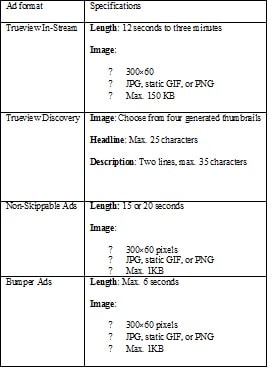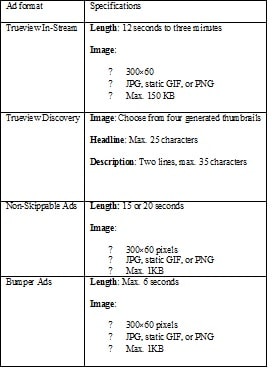 Targeting and Analysis
You can improve the efficiency of YouTube video advertising campaigns by updating your targets. Here are some options you might want to consider:
Competitor channel targeting – learn how to advertise on YouTube through your competitors. Determine what videos their audience likes best and find channels that they target.
Learn how to advertise YouTube videos through custom affinity audience campaigns – in-market targets may limit you to predefined segments. Target users whose recent web activity aligns with the type of product or service your offer.
Customer match functionality allows you to match email addresses with users signed-in to Google. If a person has been searching for a specific term that matches your specialty, relevant YouTube video advertising will get a better result. The benefits of YouTube ads, in this case, include narrowing down the audience and customizing your actions.
YouTube Advertising Costs
The fundamental part of YouTube advertising cost is the need to bid on ad placement. The prices can vary depending on what other advertisers have bid – on average, it will cost $0.10-$0.30 per click. You can set a limit that will not let you pay over the maximum bid.
For example, you set the limit at $1, and your competitor bids $0.55 per click. In this case, your YouTube advertising cost will amount to $0.65 for each click. Typically, companies spend no less than $10 a day on YouTube video advertising. This number can go up as the campaign progresses with time.
With YouTube.com advertising, there are many variables when it comes to price setting:
Ad space – the bigger exposure you want, the more it will cost
Target audience – if there is a lot of competition to target a specific audience, this may also increase the prices
Actions your audience takes – you pay for the ad when people click on it or watch more than 30 seconds.
Lasting Trend knows how to advertise YouTube videos to get the best out of every campaign. You cannot underestimate the value of a competent YouTube ads agency. At Lasting Trend, we know how to expand your reach through this massive online platform and create more leads efficiently.
Contact Us For A Free Consultation
Your search for a YouTube ads agency and a team of marketing specialists ends at Lasting Trend. As you just learned, video advertising on YouTube lets you hit new heights in your company's growth. But when your company's YouTube ads are in good hands, you can let the professionals do their job, while you take time to focus on the core line of your business.