Everybody uses Facebook – CEOs, students, companies. The community is clearly there, and the purpose of Facebook advertising is to connect with it.
A few years ago, our client, LaptopMD, opened a new office in a small town near NYC. It only took a few posts, geo- and demographic targeting, to boost its popularity. Unfortunately, this trick doesn't work anymore, which is why we present you with this Facebook ads guide.
Learn how to advertise on Facebook and how to use Facebook ads for the long-term benefit of your business.
How our Facebook Advertising Agency Works
You get a form, fill it out and send it back to us. We study your product and identify its uniqueness to present it competently.
Market and a niche of interest analysis
We conduct a detailed analysis of the market and your niche, its pace, and its development. Estimate quantity and quality of similar offers reveal fluctuations of demand on a product to choose the best time to launch a campaign.
Analysis and segmentation of the target audience
We analyze the selected target audience. Results are divided into small age groups. Groups are based on shared interests, needs, and "pains" – customer problems that your product solves. Focusing on these pains, we increase the value of the product and convince the potential customer to buy it. Looking at those pains, we create offers:
advertising texts;
layouts (creatives).
Identifying the pains of the target audience and how to resolve them
Overall work with the Facebook target audience – the analysis review, a summary of the main pains of our clients, specification of theses that covers them.
Creating a sales funnel
How to sell your product to increase customer loyalty? We create ways that motivate people to buy more or for a higher price — the conversion rate from sales increases. This includes promotional offers that are of great utility for a lower price.
Sales funnel scheme:
A lead magnet (anything free);
Tripwire (goods up to $50);
Major sales;
Additional sales (development, related products).


Developing Offers and Creatives
Creation of advertising text/offers and advertising layouts (photo/video). Plans are made individually for each segment of the target audience, based on their pains.
Analysis of previous campaigns
We analyze and identify gaps in previous activities that were conducted earlier. The step is based on previous setups of targeted advertising.
Facebook Advertising setup
You give us access to your advertising account, we set up the account itself, as well as future advertising campaigns, launch ads.
Hypothesis tests
Since it is impossible to determine what is suitable for this or that segment in advance, we test different options. After 2-3 days of advertising, we turn off those ads that gave an "expensive result", to not waste the budget.
Search for golden options
Facebook Ads that gave the best result at the lowest price per click remain working, the rest are disabled.
Optimizing your advertising campaign
Set up retargeting, the audience's look alike and have other bonus features.
Running catch-up ads, which focuses on those who went to the product page, showed activity but didn't buy. Creating unique offers by transforming advertising layouts and offers.
Results and their analysis
Summary and analysis of the conducted work after a month/week of work of an advertising campaign.
Discussion on further cooperation
Our benefits:
By choosing the tunedtargeted advertising, you get a full review with a detailed analysis ofcompetitors. You will get advice on upgrading the profile, and many aspects thatcontribute to a successful outcome.
5 Reasons to Use Facebook Ads Right Now
Facebook advertising remains a goldmine. So learning how to use Facebook ads effectively will improve any online marketing campaign. Even when operating with a lower budget, these ads can help you beat the competition and get your company's name out there.
Here are the benefits of Facebook ads for a business.
1. Your future customers spend a ridiculous amount of time on Facebook.
Research shows that an average American spends 43 minutes a day on Facebook. This is a very fortunate situation to capitalize on. 80 million business pages that already know how to advertise on Facebook agree.
Moreover, the user base for your Facebook ads could be as high as 2.23 billion people. This number shows active monthly users, so the potential is incredible. If you multiply the number of people and the amount of time they spend on the website/app, you can get an idea of how powerful this platform can be.
2. Facebook advertising lets you target audiences specifically and accurately.
The hyper-targeted Custom Audiences feature helps you use Facebook ads to reach your desired audience. A Guardian journalist found out that Facebook had 600MB of data on him. While it might be questionable from a moral point of view, the benefits of Facebook ads are extensive from a business point of view. You can target by age, gender, city, hobbies, etc.
3. Facebook supports businesses through brand awareness objective.
So, how can you advertise on Facebook with a brand awareness objective? Select this feature and utilize Facebook's algorithms to optimize your campaign. The platform itself encourages you to use Facebook ads. And when people know your brand, they are more likely to purchase from it.
4. Facebook ads increase sales and leads.
There are many Facebook case studies that are available online. Businesses that have learned how to use Facebook ads have increased conversions, returns on ads spend, and decreased the cost per click. For example, read the fashion and homeware retailer Matalan's success story.
5. The results of Facebook advertising are measurable.
The functionality allows you to see the number of clicks and impressions and assess your Facebook ads benefits. You will also be able to calculate conversion and click-through rates. The figures help you track the activity and adjust your campaign for better results. In all fairness, the benefits of Facebook ads for business could go on forever.
Do you want to get a free consultation on your Facebook Ads campaign?
Are you and interested? Do you want to know more about how to use Facebook ads? At Lasting Trend, we understand that running marketing campaigns is not a straightforward process and requires expertise. We will help you implement Facebook ads, while you focus on your main line of business.
What is a Facebook Ad Agency & How It Works?
If you are still hesitant about dealing with a Facebook ad agency, remember that they will be in charge of everything:
Even with all of these tips and tricks, no typical business has the same expertise as a Facebook advertising agency. You may be an expert in your field, but when it comes to advertising, you should listen to the professionals. The best Facebook ad agency will employ the leading tactics, adapt them according to the client's specific goals, and achieve optimal results in a cost-efficient way.
Discovery. It's important to gather as much information as possible: what makes your company stand out, what features you want to highlight, what made your past campaign successful/unsuccessful, etc.
Development. A Facebook ad agency can take care of every aspect of creating compelling ads: written and visual content, headlines, and descriptions. The visuals are admittedly the first thing a user notices so you should make them count.
Optimization. A Facebook ads expert will tweak certain aspects of an ad to achieve better performance.
Monitoring. With the ever-evolving nature of the Internet, you can't just launch a campaign and forget about it. A Facebook advertising agency will consistently oversee the progress and make necessary changes.
Reporting. As a finishing note to your mutual efforts, a Facebook ads agency will provide a report detailing the current status of the campaign. You can arrange biweekly or monthly reports; however, it might affect the Facebook ad agency pricing.
The best Facebook ad agency offers experience, a creative approach, and affordable services. Lasting Trend has been in the industry long enough to know how to advertise on Facebook for the benefit of any business. With our Facebook advertising help and tips, your marketing campaigns will be handled according to the highest standards.
Types of Facebook Ads
Now that you know the benefits of Facebook ads for business, it's time to explore different types of Facebook ads. Depending on the type of material you have and your goals, you can choose or combine the following:
Photo– this is the simplest way to start with Facebook ads. However, you can be very creative, so you can carry out different types of Facebook ad campaigns.
Video – this is where you can let your imagination run wild. Show your products, introduce your customers to the inner working of your business, or make it aspirational.
Carousel – showcase different aspects of your product or service in up to 10 photos.
Slideshow– this is one of the types of Facebook ads that is easy to create using the material you already have. Make it eye-catching but not too fast.
Lead – "the fewer action users need to take, the more likely they will engage," is one of the greatest Facebook ad tips. Lead ads allow you to provide contact information for your business without unnecessary typing.
Instant Experience– these are mobile-optimized, full-screen ads that show images with tagged products.
Collection– these types of ads on Facebook include direct links to the products.
Dynamic – if a user showed interested in a product but didn't purchase it, a dynamic ad will show this exact product. Since they are already familiar with the product, it will easily catch their attention.
Messenger – as the second most popular iOS app after the main Facebook app, Messenger can bring a lot of people to your customer base. Along with ad placement, you can use "click-to-Messenger" for easier contact with service reps – use this Facebook ads guide.
Tell your future customers an enticing story through any of these types of Facebook ads. If your ad finds its way to a user, make them remember you. While different types of Facebook ads have inherent benefits, the quality of your content is the main thing you should focus on.
Facebook Ads Specs
No Facebook advertising guide is complete without a section on ad specs. You might attempt a one-size-fits-all approach and even achieve moderate success. But professionals who know how to use Facebook ads effectively will always recommend customizing ads for their specific placement.
Here are Facebook ad specs that you should not overlook.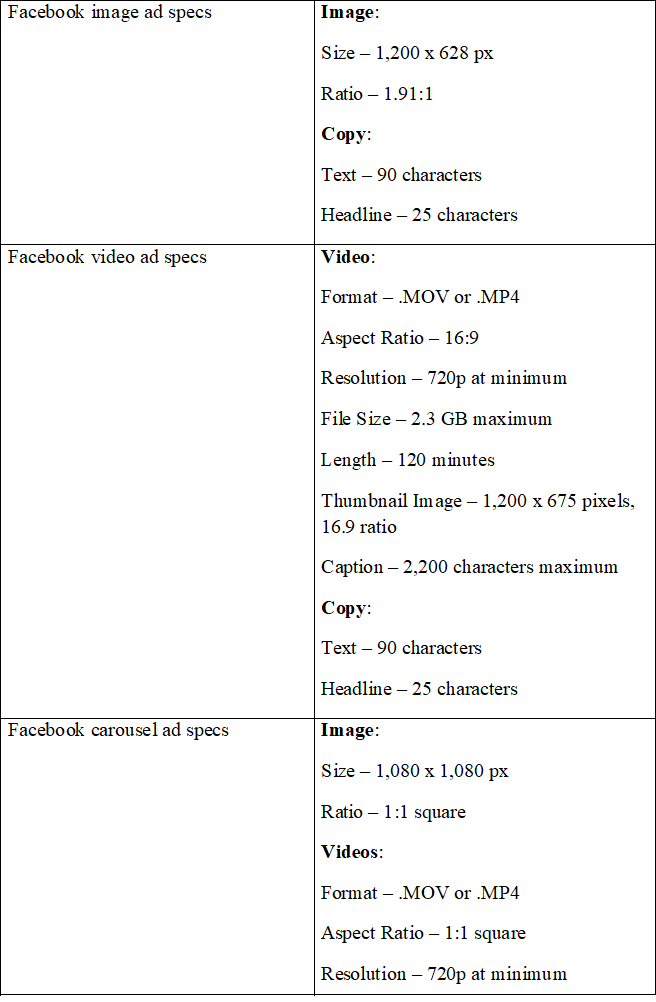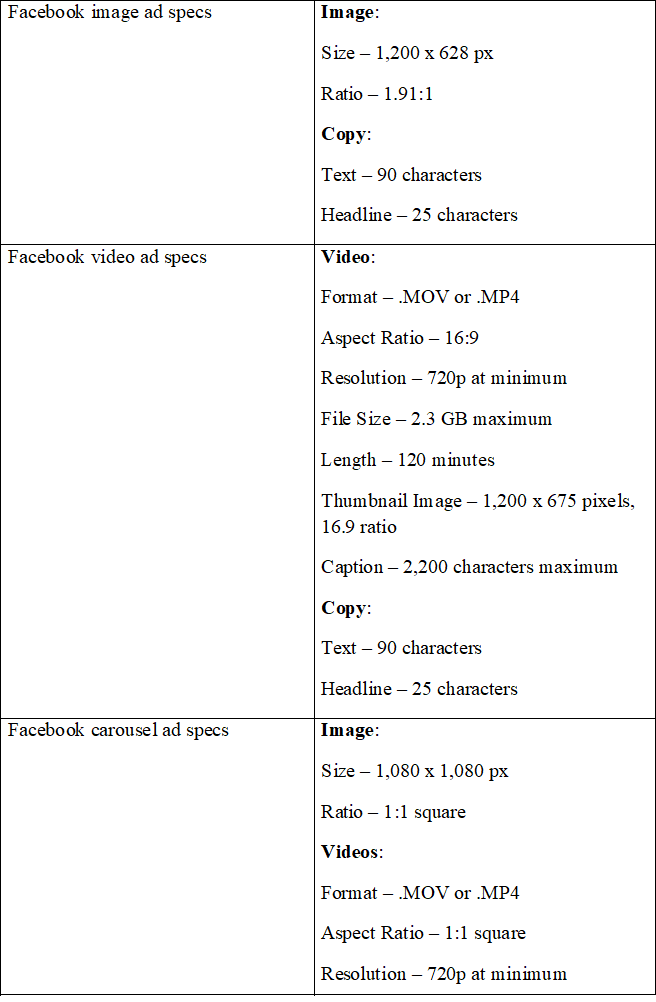 Facebook advertising options are always being improved and expanded. Therefore, you should regularly check for updates on Facebook ad specs to adjust your campaigns as needed. Also, creating a distinctive ad copy is one of the best Facebook PPC advertising tips.
For more information from a first-hand source, follow this step by step guide to Facebook advertising.
If you don't want to spend hours researching how to use Facebook ads and even less time implementing advertising campaigns, leave it to the best Facebook ad agency. Lasting Trend takes care of everything – you can just sit back and watch your sales grow. Get a free consultation, use Facebook ads benefits, and start increasing your revenue.
How to Advertise on Facebook – Main Tips in 2020
Another important section of this Facebook advertising guide is discussing the best tactics. To avoid reinventing the wheel, you can capitalize on already tried and tested methods. Let's take a look at the top Facebook advertising tips:
Identify your goals and priorities.
How to use Facebook ads effectively – the answer starts with choosing between long-term and short-term goals. If you only want to generate more leads and expand your email list, that's one thing. If your goal is to build long-term trust with your audience, that calls for different actions.
Find the right audience.
Any Facebook ad agency will emphasize the importance of reaching your specific targets. Facebook ad targeting tips are not aimed at increasing the number of people your ad reaches. Instead, you want to find people who agree with your core values and your message.
Improve the landing page.
Many landing pages could use Facebook advertising help and tips. If you get people to click on your ad, you have to prove that it was worth it by having an informative, aesthetically pleasing webpage. You don't have to be Facebook ads expert to realize that an ad will be pointless if your website can't help you convert users into customers.
Keep in mind the verification policies.
Learning how to use Facebook ads also means getting verified, especially if you deal with social issues. Earlier, our Facebook advertising agency launched a campaign on one of our clients – the Yuriy Moshes law firm. The procedure for launching the ads campaign became complicated. Here's what we encountered: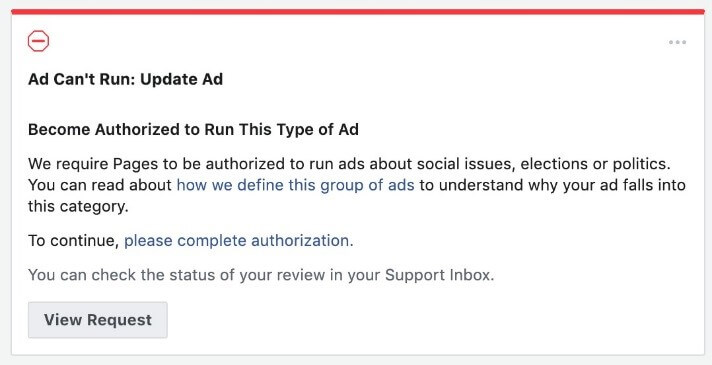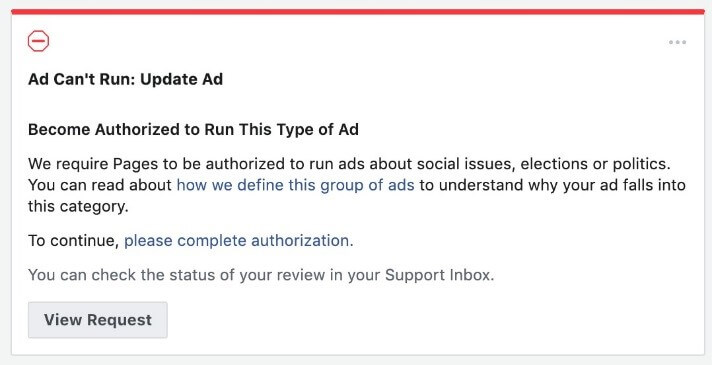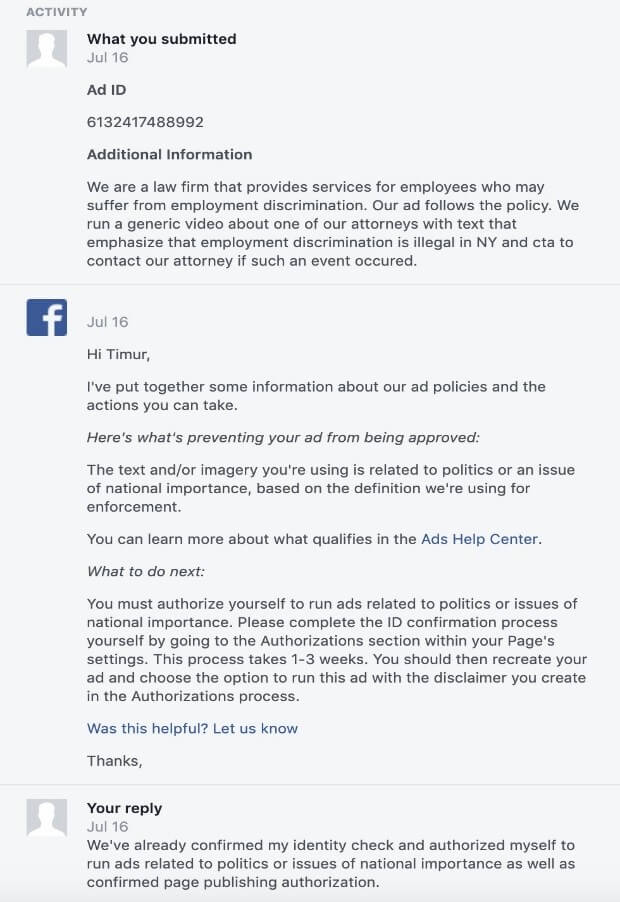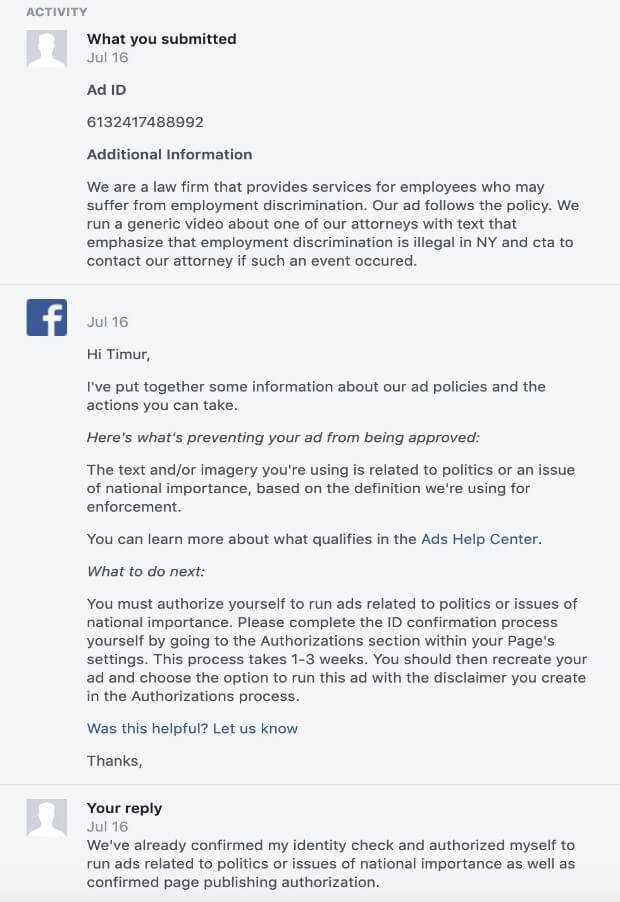 Build a proper sales funnel.
Our client's campaign a few years ago looked like this: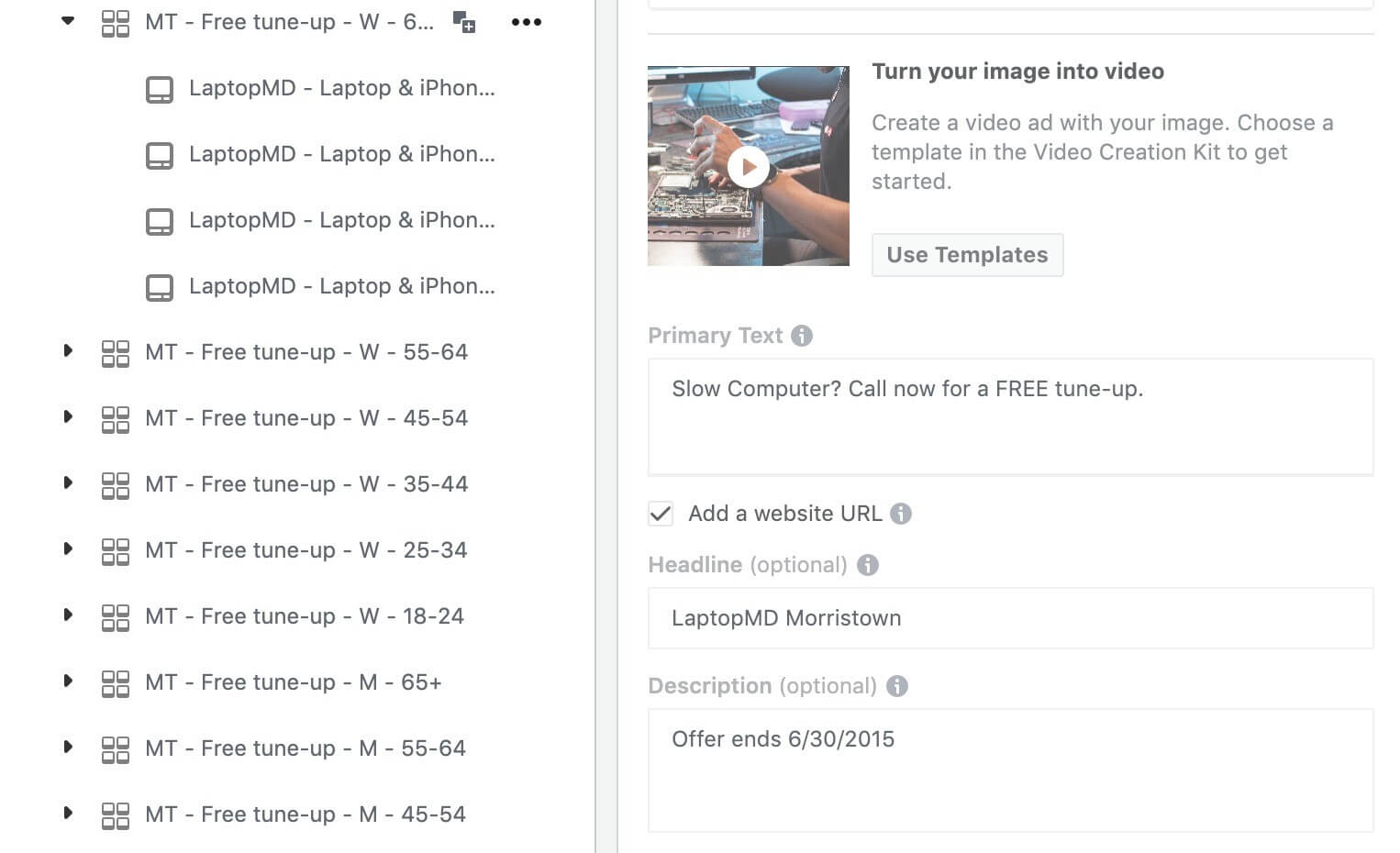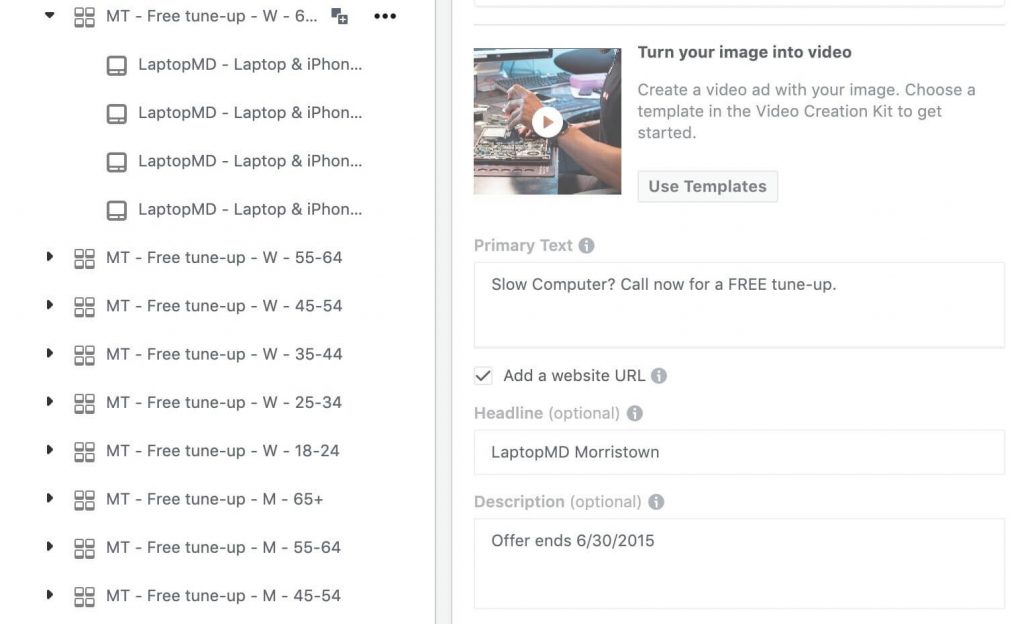 It was enough to target audiences by geo, age, and interests. Our Facebook advertising tips and strategies for that client made it more effective. We created several landing pages for the Yuriy Moshes law firm. And then they were able to launch several campaigns for different audiences. It was important not to make it a selling content but rather informative content.
For example: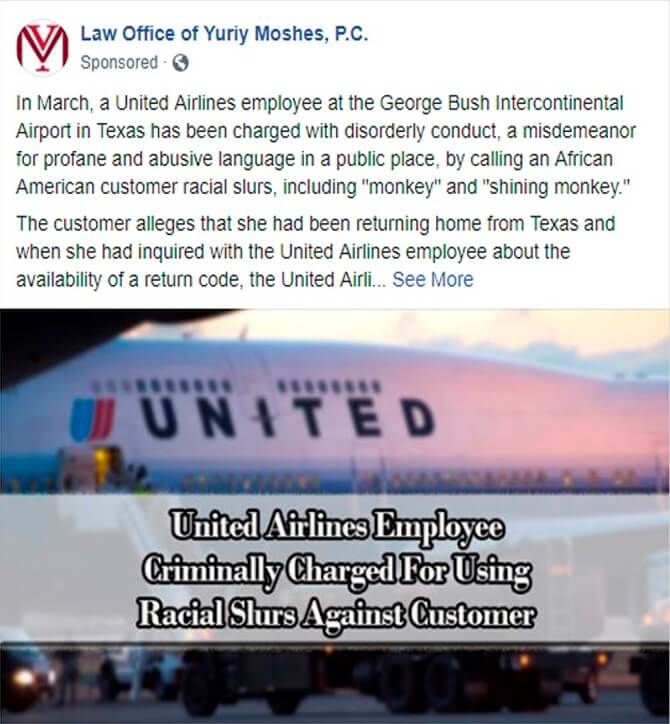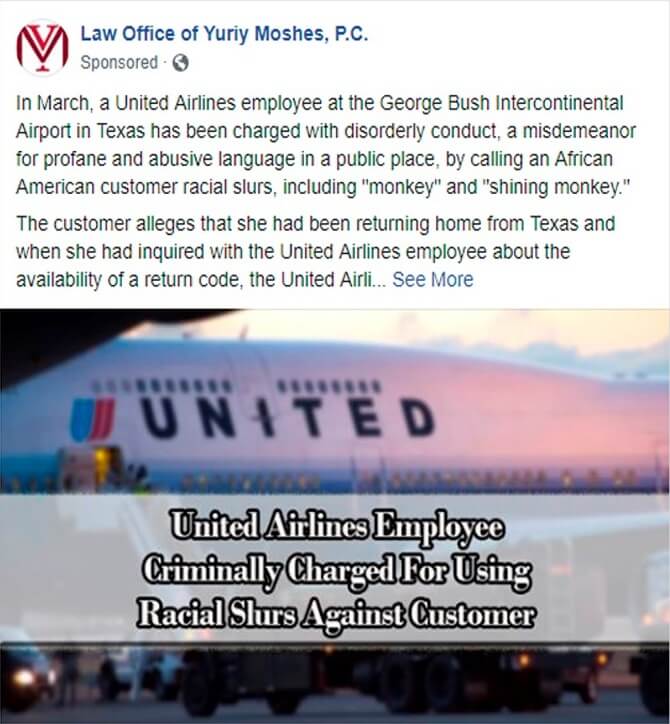 Work on the visuals and tell a great story.
The benefits of Facebook ads for businesses depend on how well you combine the content and the way you deliver it. Use Facebook advertising tips for small businesses to figure out how to establish human communication. Your story should align with your company message and make the imagery capture the eye.