eBay unifies the web's largest marketplace accommodating 25 million sellers and 182 million active buyers. This can be used as an important sales channel for your eCommerce business but only if you know how to put yourself in the spotlight. It's no wonder sellers are puzzled: How do I advertise on eBay? How much does it cost to advertise on eBay? What is a promoted listing on eBay?
Depending on your goals and budget, you may need different solutions for promoting your brand. To save you the confusion of wondering what to do, we'll cover the ins and outs of how to advertise your eBay store.
Facts About eBay Advertisement
eBay advertising allows your product to be seen by millions of active buyers when they're browsing. Here are just a few success stories:
Reebok has done $147K in sales with only $9.4K in ad fees and sales for promoted items had a 142% lift.
VMInnovations' home goods maximize sales and visibility through an eBay advertisement campaign and increase exposure on key items with a $30:1 return on ad spending.
TekReplay's Apple products managed to achieve a 300% increase in overall sales, a 179% increase in items sold, and a $43:1 return on ad spending.
What Kinds of eBay Advertisements are There?
How do I advertise on eBay? The promoted listings program and solutions for larger brands are the two currently available options to utilize the eBay advertising platform.
The first one deems to be in higher demand. What is a promoted listing on eBay? It is a performance-based campaign that promotes your products at a certain ad rate. If you want to know how to advertise on eBay as a larger brand, you may benefit from a specialized program. It incorporates content marketing, display advertising precise targeting to reach your desired audience.
There are also questions from sellers on how to advertise on eBay classifieds. However, eBay announced the site was shutting down in 2016. eBay "Want It Now" ads also deserve a special mention. They allowed potential buyers to create ads for items they were looking to buy but the feature was discontinued a few years ago.
eBay Advertising Program: Who Should Use It?
Before we go into how to advertise your eBay store, let's determine who needs it and why. The main idea behind eBay online advertising is that the more people see the items, the more likely they will be purchased. And according to eBay, their programs are capable of boosting visibility by up to 36%.


It has been observed that placing sponsored eBay ads for items with no sales history and seasonal items is the best tactic for increasing sales. However, it is in no way limited by that. eBay promoted listing is also a highly effective way to increase sales productivity for best-selling items in your store.
As a seller or a brand owner, ask yourself: "Do I know how to promote my eBay listing and do I have a strong product to support that?" Fortunately for you, Lasting Trend will take care of all the specifics regarding your digital marketing. Instead of learning how to promote an item on eBay, let our New York advertising agency take care of everything.
CPM? CPC? CPS! What Makes eBay Ads So Unique?
You might be wondering: how much does it cost to advertise on eBay and how can I advertise my eBay store on a certain budget? Most platforms implement a CPM (cost per mille) or a CPC (cost per click) model. What makes the eBay advertising platform unique is the CPS (cost per sale) model?
CPM refers to advertising bought on the basis of a number of ads over the course of a campaign. The price is set for a thousand ads. CPC advertising means that you are charged depending on how many people clicked on an ad. The price is set for a thousand impressions.
In eBay online advertising, the CPS model implies that the price of a campaign is determined by the sales. In this case, the clicks or impressions don't affect how much you are being charged. If the click results in a sale, that is what is being paid for. It should be mentioned that this eBay advertising model is not the cheapest. However, if you are after real results and boosted sales, it will be worth it.
As you learn more about how to promote items on eBay, you will also face a feature specific to this website. Rather than paying for the ad campaigns separately, eBay advertising costs are deducted as the purchase takes place.
How to Advertise on eBay as a Brand
eBay Advertising programs offer brands effective ad solutions that drive lifts in sales. The announcement from the company states that they want to ensure brands remain the core of the sales on the website. Large manufacturers, in particular, have been a big focus of this strategy. The eBay Advertising platform strives to build direct commerce partnerships with large international brands.
The platform offers unbiased insight into the customer motivation and intent and shows how to promote an item on eBay more effectively. Bear in mind that eBay's brand solutions are highly detailed and require relatively large resources to implement – both money- and time-wise. Also, unlike a promoted eBay listing, there is no seller dashboard to manage the campaign due to its complexity.
To take part in this program and learn how to advertise your eBay store, you need to get in touch with eBay's brand team. As part of that cooperation, the team will customize the plan catering to your specific situation. Unfortunately, these campaigns tend to get quite expensive. For most sellers, the best option is to learn what a promoted listing on eBay is and utilize it.
How to Get a Sponsored eBay Listing
Promoted listings are the most popular tool on the platform so any seller would greatly benefit from knowing how to advertise on eBay sponsored links. Fortunately, it is a straightforward process with clearly defined steps.
How does eBay advertise certain items? It starts with creating an ad campaign and setting the highest percentage you are willing to pay for the ad. If someone buys the product as a result of an ad display, this percentage is deducted from its cost.
If you want to advertise on eBay, it will be done on an auction basis. In many categories, sponsored ads on eBay are a hot commodity and there will be a lot of sellers for an advertising spot. Let's say you specify you are not willing to spend higher than 8% of the sale on the ad. If there is someone on the platform offering 9%, they will get the ad spot.
The costs for a promoted eBay listing will vary from category to category. In certain cases, you can confidently get away with a smaller percentage. Normally, it will not be lower than 5%. However, when it comes to the upper range of eBay product listing ads, the number can be as high as 20%.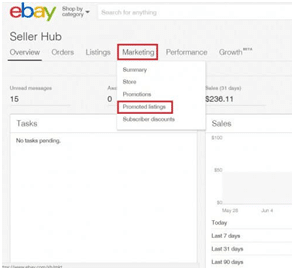 Here is how to get a sponsored eBay listing. When you are logged in your seller account, the website redirects you to the seller dashboard. Under the marketing tab, you will see promoted listings. By now, you already know what a promoted listing on eBay is.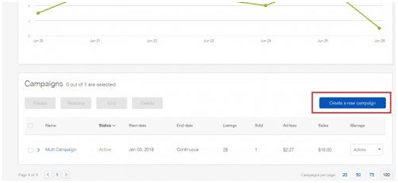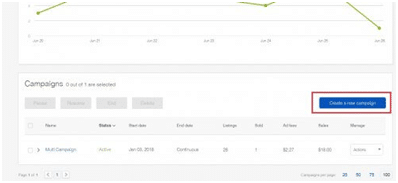 If you already run a campaign or campaigns, you should be able to see all of them listed in this section. In terms of how to make an ad on eBay, you need to click the button on the bottom right to start a new campaign.
So, how do you advertise on eBay if you have thousands of items you want to promote? Luckily, there is a bulk tool that allows you to select the product in one go. Next, it's time to dedicate a certain percentage of the sale as previously discussed.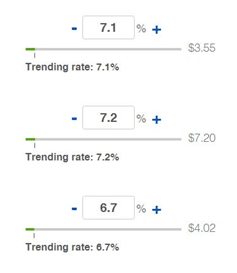 Then, all that's left to do before the promoted eBay listing is launched is name the campaign, select a start date, and agree to the terms of service. The intuitive interface makes it a very quick process.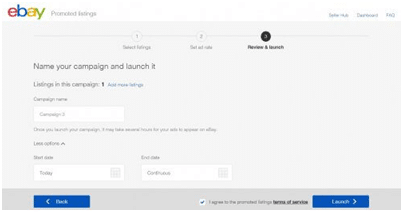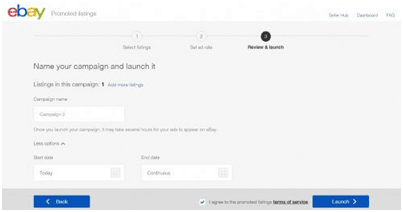 Is there a way to advertise your eBay listing for free? There are rules in place but certain conditions make it slightly less flexible in terms of the listing length. You can decide whether they last for 1, 3, 5, 7 or 10 days if you opt for 20 free listings. However, the 1,000 ads option is a little more limited in terms of managing the time of showing.
So, here are the main rules on how to advertise your eBay store:
If you are a seller without a subscription wanting to advertise your eBay listing for free, you can choose between the number of showing days and display up to 1,000 listings a month. If you want to display more items or change the conditions of when the listing is shown, it will come at a certain price.
To advertise your eBay listing for free as a seller with a monthly subscription, you also get 1,000 listings a month but with different conditions in terms of days. Similarly, going above the 1,000 listings will be charged.
The option to advertise your eBay listing for free doesn't include classified ads or items listed in the property and vehicle categories. But the best way to handle these intricate details is to delegate the task to an experienced marketing agency in New York City. Lasting Trend is here to help amplify your online presence and boost your sales.
How to Advertise on eBay: Listings Optimization
eBay advertising sites offer events as well as seasonal campaigns. If you want to know how to sponsor a listing on eBay, you can do it by:
Including tons of photos on sponsored eBay ads
Filling out item specifics completely
Using markdown manager for ads on eBay listings
Processing orders quickly
Offering free shipping
Tracking Your eBay Advertising Campaign
Once you figure out how to run a promotion on eBay, it'll be important to also learn how to track it. Luckily for sellers and advertisers, the website provides easy-to-understand tools for tracking the success of promoted eBay listing campaigns. These tools offer functionality to change certain details as you go to maximize the results.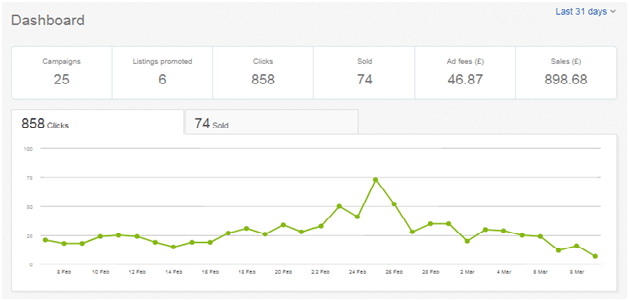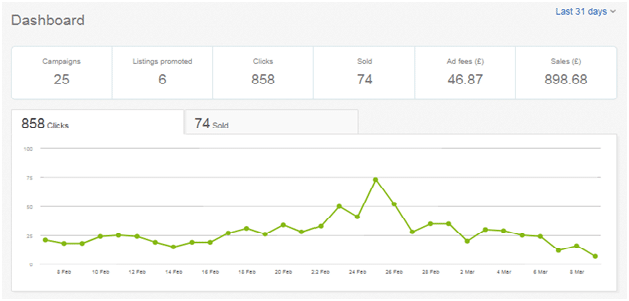 The dashboard of a promoted eBay listing shows the number of currently running campaigns, the specific number of listings, measures how many clicks the entire campaign, ad group, or ads received, and your total sales. Lastly, it will display the fees in a separate line on your eBay invoice and they will be categorized by item.
You can view particular campaigns by scrolling the sponsored ads dashboard on eBay. It will show each campaign performance in detail. The results can be adjusted to show the results for a specified period.


The dashboard of the eBay promoted listing campaigns also allows you to pause or end them at any time.
How to Advertise on eBay: The Bottom Line
eBay is an exceptional platform with a gigantic audience. From a seller's perspective, you should utilize every opportunity to maximize its benefits. This starts with learning how to advertise your eBay store in an efficient way.
If you want a professional that knows how to advertise on eBay and handle your marketing in general, look no further than Lasting Trend NYC. With our extensive experience in the field of digital marketing, you will be in good hands. We will manage your eBay advertisement, while you can focus on improving the quality of your products. We know how to achieve incredible results in a short period of time.