Our client, Interactive Vision Solutions, is a successful audio-visual equipment rental company based in the New York City area. They engaged Lasting Trend to review and restructure their website with the objective of generating more leads for the specific market niches they had identified as business priorities.
Results from first 6 months:
Leads increased by 63%
Revenue increased by 27%
Our strategy was simple. We wanted to develop outstanding content that would attract new customers, build customer awareness of our client's services, position our client above their competition, and, as a result, drive leads to his site. We used a four-step process:
Review of existing website
We kicked off the project by undertaking a comprehensive review of the client's existing website. We focused most intensively upon the content relevant to the business niches that Interactive Video Solutions had identified as areas for expansion. We also redesigned a website to give it a modern look as well as make it a mobile-friendly. As a result of the review, we generated a substantial list of opportunities for improvement.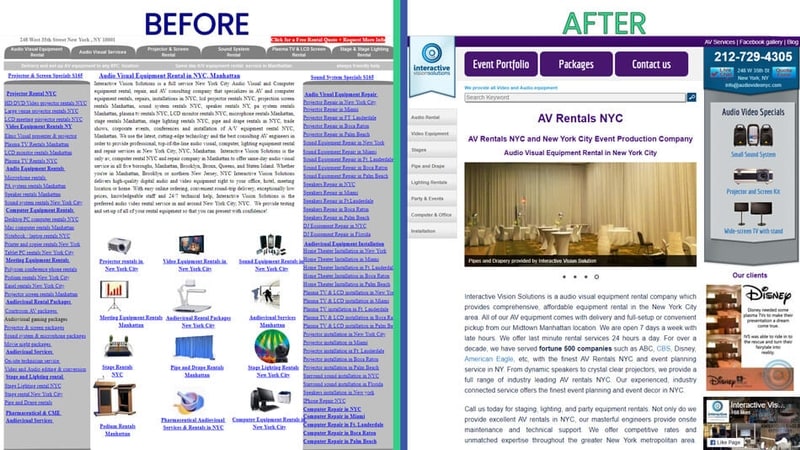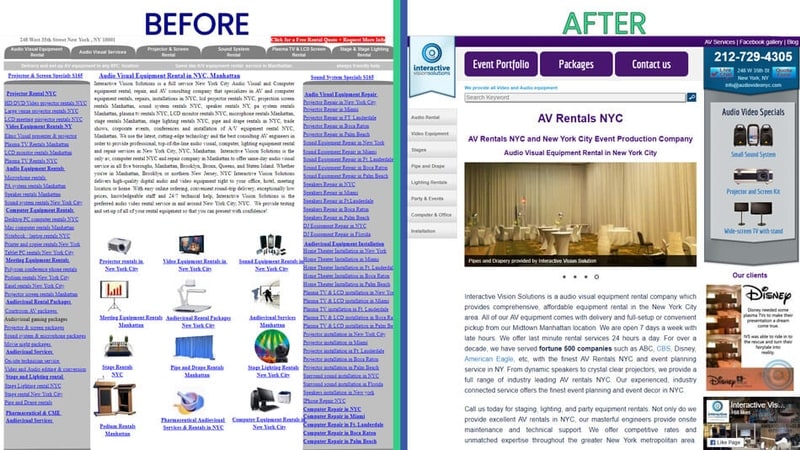 Competitor research
To structure our competitor research phase, we asked ourselves three key questions:
Who were our client's most significant competitors? We defined this group by the list of companies that appeared among the Top 10 organic search results.
What could we discover from these competitors that would be useful and actionable intelligence for our clients? We focused our research on the visible and practical aspects of their website content and design to ensure our findings could be easily implemented.
What were these competitors doing to attract, convert, and retain customers? Our analysis of each competitor's website included looking specifically at:

the number of words used on the landing page;
the keywords used;
the number and destination of backlinks;
the number and type of images used;
the composition of the URLs being used.
At the end of the research we felt confident we were going in the right direction.
Data analysis
The most challenging part of the project was bringing all the different data and insights we had gathered together to drive the redesign of the Interactive Video Solutions website. To make sense of the puzzle, we organized our thinking around some key headings:
Which competitor's services were attracting the most traffic?
Which features of each competitor's site were key to increasing their search rankings?
Which marketing tactics did each competitor employ?
What should we implement to achieve our client's objectives?


We brought our findings together into the form of a detailed blueprint for the content that should be presented on each page of our client's website.
Turn the blueprint into content
Using the blueprint we had created, we then completely redeveloped our client's website. This included:
Content rewrite for each page;
Addition of new content related to the priority market niches;
New NYC "tag" for each service to make it locally relevant;
The inclusion of major industry keywords on each page;
New attractive imagery;
Addition of suggested services;
New quote forms.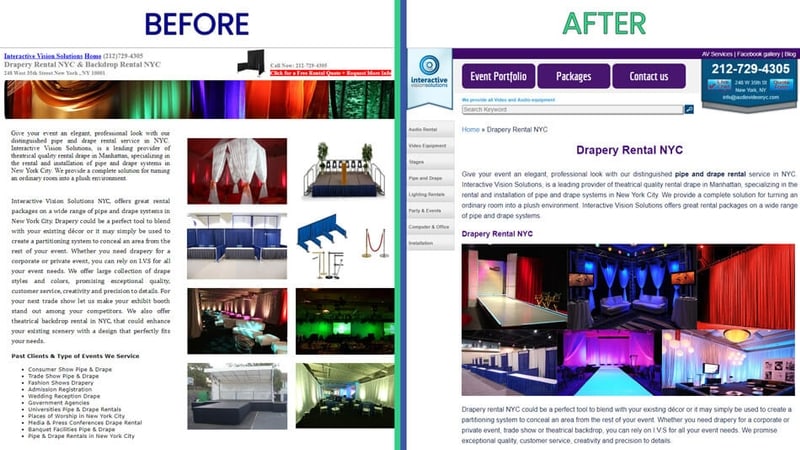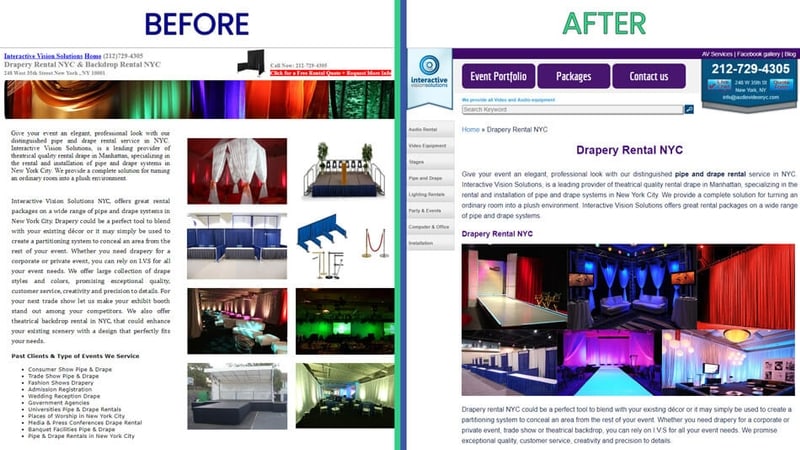 Would you like to get similar results?
Our approach to this project involved thorough focused research coupled with detailed data analysis to underpin the development of a new blueprint for our client's website. Implementation of this insight-driven blueprint through the addition of new content and features and an SEO-focused overhaul led to Lasting Trend successfully achieving our client's objectives.
Interactive Video Solutions now appears much higher in the search results for relevant pages. Once customers visit the website, they are now far more likely to be converted into actionable leads. In measurable terms, within six months, leads increased by 63% while revenue increased by 27%.