How Online Reputation Management Works
The number of people searching for local businesses is growing – with 56% going online for that reason weekly and 69% – monthly. 86% read online reviews (ranging from occasionally to always) and half of them visit the businesses' website after reading positive reviews. Interestingly, 78% trust online reviews as much as personal recommendations, and the number is even higher for younger age brackets.
As you can see, consumers hold a businesses' online presence in high regard and SEO reputation management tools are increasing in demand. If you want to turn consumers into clients, we'll show you the steps to take to improve a business's prominence through ORM (full form in SEO – online reputation management).
A Case Study on High Water Standard
Our client is the High Water Standard company, which specializes in the installation and maintenance of water filtration systems. The company has achieved a certain level of success, but the only methods of promotion they used were traditional offline tools, without the help of online reputation management companies.
We tried to establish what kind of online presence the company has and discovered there was none; neither was there any online reputation management. High Water Standard virtually did not exist on the Internet – no website, social media accounts, Google Maps listing, etc. The challenge was to implement an online reputation management strategy to build an online reputation from the ground up.
Industry for online reputation management case studies: Water filters installation service.
Entity: Local service company based in Brooklyn, New York.
Issue: After 10 years on the market, the traditional marketing methods were unable to achieve the results obtained earlier on.
Project duration before solid results: 9 months.
Google My Business, Bing Places, and Apple Maps Listings
Online reputation problem: HWS didn't rank on Google, Bing, or Apple Maps.
Online reputation solution: We added HWS to these business listings as part of the online reputation management. It increased the number of leads generated from 0 to 5-10 a week in 9 months.
Summary:
56% of local businesses haven't claimed their Google My Business listing, which is a big mistake in ORM (full form: online reputation management) in SEO. The impact of this is huge as 46%of all Google searches are looking for local information.
Of course, there are many factors that contribute to local SEO reputation management other than GMB. But the steps won't be difficult to carry out – you will simply have to follow the instructions provided by the platform. As a starting point of online reputation management, companies should always claim their GMB listing. Additionally, Bing Places and Apple Maps will be valuable platforms.
Here are actionable online reputation management strategies that can effectively tackle a lack of online presence.
Google's Local 'Snack Pack' vs. Organic Results
What is reputation management in SEO, and how does it translate to different kinds of Google searches?
Here are the search results for "water filter company near me":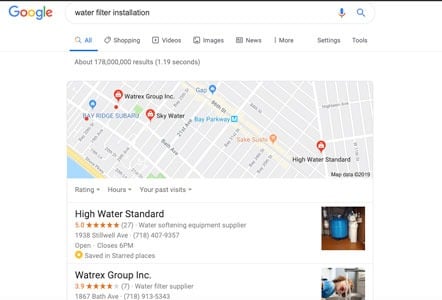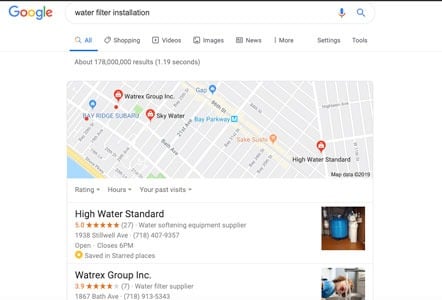 You can see that the upper part, the "snack pack" results, is different from the other "regular" organic results. It was established that the "snack pack" results, the top three local business listings, account for 33% of clicks. 40% of clicks went to organic results. This should be taken into consideration for Internet reputation management. The key takeaway for online reputation management services is that businesses need to rank in both 'snack pack' and organic results.
SEO reputation management tips: Search for the relevant phrase on a mobile device, in the Google Maps app, and Google Assistant. And remember that online reputation management should accommodate local searches coming from many different devices.
Google My Business: A Few Tips to Improve Your Online Reputation
Businesses that verify their information with Google My Business are twice as likely to be trusted by consumers, which is what online reputation management services ultimately strive for.
According to Moz, GMB is on top of the list of both "snack" and organic ranking factors. Therefore, always incorporate it into your online reputation management strategies.
SEO reputation management tip 1: how to enter your business name
It should be a real-world name used consistently across other platforms. Your business name is not the place to shoehorn keywords. Not only is it detrimental for your online reputation in general, but it also can get your listing suspended, according to Google My Business guidelines.
Here is how HWS looks on Google My Business: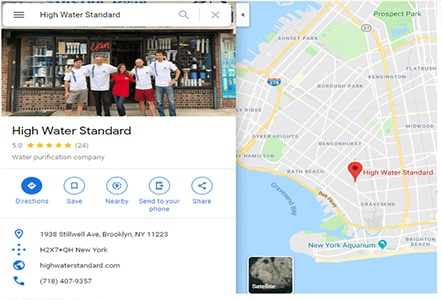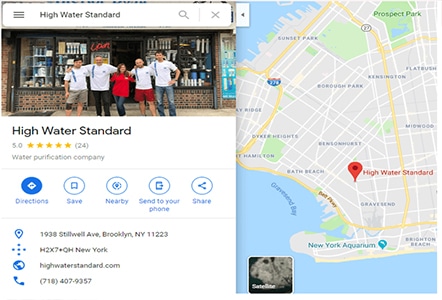 SEO reputation management tip 2: how to choose a category
If you are not sure what category to choose, take a look at your competitors. For Internet reputation management, the category should be specific, concise, and representative of the business activity. For High Water Standard, we chose "water purification company" which accurately describes the overall core business.
SEO reputation management tip 3: how to optimize your listing
Listing for Internet reputation management can be done in various ways by:
Adding more categories
Including recent relevant photos – they can be taken on your premises or at least nearby
Listing useful business information: opening hours, additional phone numbers, other services you provide, important attributes, etc.
Online Reputation Management Strategies for Apple Maps
In 2018, 44.6% of smartphone users in the USA had an iPhone. So, it's time for online reputation management strategies to capitalize on this fact.
Keep the following facts in mind:
Users aren't in the habit of downloading other apps, and they tend always to use Apple Maps. So, a big part of your online reputation depends on how Apple Maps listings will inform your potential clients.
Siri and Spotlight searches also depend on Internet reputation management on Apple Maps. Apple Maps is built into both services and provides directions on more than half a billion devices.
So, what is reputation management in SEO? First, it's an investment. Online reputation management strategies take time, money, and effort. But despite that, any business that goes through this process has come to realize that it's worth it. One of the best online reputation management services, Lasting Trend, takes charge of forming, monitoring, and implementing these strategies. Choose our service to increase your sales and build an online community.
Yelp Reputation Management Tips
Businesses should not underestimate the influence of Yelp reviews as part of the Internet reputation management since 90% of people shared that their buying choices are affected by positive reviews. Furthermore, 93% of users who research review sites typically make purchases at the businesses for which they search.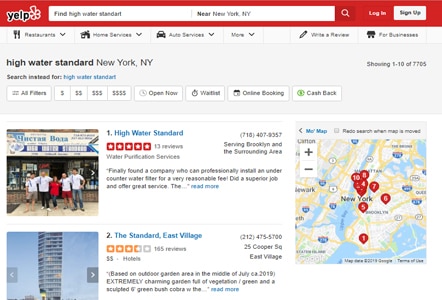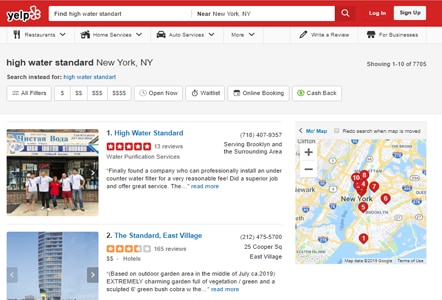 With 77 million unique visitors via desktop computers and 64 million mobile visitors on an average monthly basis, businesses have started to take Internet reputation management very seriously. These days, you can't rely solely on the quality of your product without the help of online reputation management services.
Problem: HWS did not rank on Yelp. Yelp was not used as one of the SEO reputation management tools.
Solution: We added HWS to the Yelp listings, and it started generating 4-5 leads a day over the course of several months.
Does You Yelp Online Reputation Have to Be Perfect?
ORM marketing is not about striving for perfection. No matter how good the service or product is, businesses inevitably get bad reviews from time to time. Consumers realize that an occasional bad review won't make a huge difference. What matters to online reputation management services is that the majority of clients have something positive to say about their experience with the company.
Having recent, informative, and largely positive responses on Yelp is one of the many constituents that slowly build up an online reputation.
Problem: HWS had lots of offline reviews but zero in the digital space.
Challenge: Get lots of reviews on HWS, in a short period of time, for effective SEO reputation management.
Solution: HWS does not only offer the installation of water filtration systems. Maintenance is by far the most popular service that clients go for; as 90% of them already have an HWS system installed. By providing a popular maintenance service, the company received more calls and more reviews than from a less popular installation service.
The Secrets of Great Internet Reputation Management
Set up your Yelp business profile. If you already have one, provide your clients with the most up-to-date information available. But don't stop at the bare minimum. SEO reputation management tools include posting anything relevant to your business; for example, take a photo in the office and provide links to your social media account.
Communicate with your reviewers. If someone leaves a positive review, you can thank them. If someone criticized your business, acknowledge their concerns, apologize, and find out what you can do to improve. In any case, remain professional. Building a personal connection with customers is one of the best online reputation management techniques.
Be active and supportive. Don't neglect other businesses online. Building a community puts your business name out there and creates a mutually supportive space.
Continue improving the quality of your service. Online reputation management services can only get you so far. While companies should pay attention to various aspects of their business, the most important should be their service or product. You don't want to attract new customers unless you have a business that people want to support. SEO reputation management should be conducted as a complementary measure, and only then will people have something positive to say in their reviews.
When a substantial part of your business depends on your digital presence, online reputation management companies come in very handy. Lasting Trend is here to give you a helping hand and improve your online reputation. Schedule a consultation with one of our advisors to make the best out of digital advertising.
Website Development and Optimization
As part of working on the Internet reputation management of High Water Standard, we have taken several steps in terms of website development and optimization.
Problem: The HWS website had only one page with basic information and no mobile version, which resulted in a negative impact on their online reputation.
Solution: We redeveloped the website and made sure it was mobile-friendly.
Summary:
These days, mobile and online users are taking notice of the website quality, and their expectations are higher than ever, which has been proven by online reputation management case studies.Statistics show that mobile-friendly websites are more likely to be found by mobile searchers as well as convert consumers into customers. 61% of users tend to contact only those companies whose website is optimized for mobile visitors.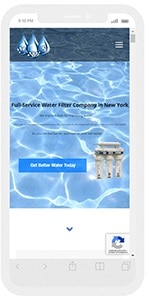 Google's mobile update, the so-called 'Mobilegeddon', makes it almost impossible for websites with no mobile version to be found in search results. However, that approach applies to other search engines as well. Internet reputation management services can assess how easily a visitor can use a website on a mobile device, use Google's Mobile-Friendly Test tool.
Problem: HWS did not rank for any keywords, including their brand name.
Solution: Our SEO reputation management tactic consisted of gathering semantics using Ahrefs and SEMrush ‍and incorporating their analysis.
Summary:
These websites make it possible to research keywords and compare them to competitors. Internet reputation management services know how important it is to audit the website to correct meta information, and that was done very poorly by HWS.
For example, we performed a Content Gap analysis and discovered keyword searches such as "water filtration services Los Angeles" and "water purification services Los Angeles". The local competitors did not rank for either of these keywords. So, it was beneficial and fairly easy to focus SEO reputation management on the same keywords but for Brooklyn: "water filtration services Brooklyn".
Tip: Your local competitor might have missed some keywords so you can look up similar businesses in other cities. This will give you a broader picture, and then you can simply adapt the keywords to your local area.
Problem: SEO reputation management tools on the website did not use CTAs (Call to Action).
Solution: We added lead generation forms and CTA to the website.
Results: HWS started getting two to three leads a day from their website.
Summary:
ORM marketing caused the target market to extend, covering a wider geographical area. Today, it includes Manhattan and a few other areas. The leads also started coming from other states, and HWS is considering to open three new branches in New Jersey, Connecticut and Pennsylvania. This slight online reputation improvement also increased the average check amount, as many purchases are not only individual but commercial orders.
Would you like to get similar results?
Online reputation management companies give businesses professional advice that they would be hard-pressed to come up with on their own. Lasting Trend is experienced in Internet reputation management and brings strong expertise to the table. With our help, you can focus on your core business and let us handle ORM.